Are you looking for the best SAT prep book and study guides? Have a look at our team's hand-picked list of the 10 best SAT books for 2018 and read reviews on why we recommend these resources as the most effective study guides. Our list is fully updated for the new SAT, which is now in effect for all test-takers. What's more, if you're interested we even have separate lists for the best SAT Prep Courses and the best PSAT prep books.
Of course, anyone considering applying to college in the US will be familiar with the SAT. This admissions test is accepted by almost all colleges, and is a requirement for many. It's a huge part of the application process for lots of aspiring students, and is worth taking seriously. With an overall score of 1600, it allows for a big range of results. It certainly pays to take the SAT, but it also pays to get a higher than average score.
As most people will be painfully aware already, tuition fees for college are often astronomically high. Today, the average student in America pays over $30,000 for their studies, and the cost looks set to rise as time goes on. The SAT gives applicants from lower-income families a chance to earn scholarships, which can massively offset the huge costs of study.
If that wasn't enough reason to pick up a prep book, a good SAT score can mean students are fast tracked to the highest classes when they start college. This provides a valuable head start, and ensures that their college career gets started in the best possible way.
SAT Books – Our Top 3 Picks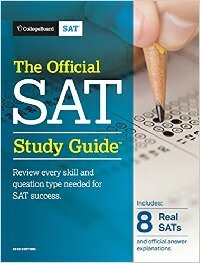 No list of the best SAT prep books can ignore the SAT Blue Book (or College Board SAT book), which is considered to be the bible of SAT test prep books (and can be used for the PSAT as well).
Authored by the makers of the SAT, the Official SAT Study Guide (2018 Edition) contains a collection of 8 authentic full-length practice tests with answers and explanations for the latest SAT format, which nobody else can offer. While these tests can also be obtained from the College Board's website, the Official Guide spares you the need for printing these lengthy tests (which you should take on paper in order to simulate the real test) and is much cheaper than self-printing.
As the materials come from an official source, readers can be assured of their credibility and gain a good idea of what to expect in the test itself.
Of course, the Official Guide is also a must-have for other reasons. The Guide offers hundreds of pages of tips and advice on how to take the test, with particular strengths in the math section, which features very useful descriptions and worked examples. It also comes with diagnostic tests to track your progress, and help with constructing essays.
Test-takers are well advised to supplement the College Board's SAT book with other SAT guides, given that it is (perhaps quite understandably) thin on offering strategic advice on how to ace the test. What's more, it can be poorly organized in some areas, and some of the information can be found online for free, for example with the Khan Academy.
Overall, however, because of its official practice tests and reliability in predicting your SAT scores, this is a "must-buy." If you plan on only getting one SAT prep book, the best choice is the Official SAT Study Guide.
Pros:
8 full-length practice tests
Strong in the math section
Official, authentic material
Essay help and diagnostic tests
Cons:
Can be poorly organized
Some of the content is free online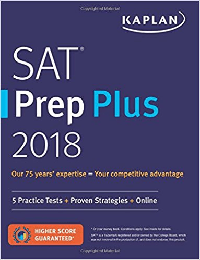 Kaplan is another major SAT test prep provider (including some of the best SAT prep courses) and leading standardized testing guide publisher. Kaplan's top rated "Prep Plus" manual is also among the best SAT prep books.
This highly accessible guide has been fully updated and expanded (weighing in at over 950 pages) for the latest SAT format. It excels at providing a broad range of high-quality content: coverage of SAT basics, more than 1,400 practice questions with in-depth answers, strategy advice, quizzes and expert video tutorials, and five full-length SAT practice tests (two in the book and three accessible online). All the major areas of the test are covered, and the content is clear, accessible, and digestible.
In addition, this test study guide adds a nice touch by offering a mobile version of the book, an online diagnostic test, and tips by SAT instructors who earned perfect or high SAT scores. For those who take Kaplan test prep courses, the book comes with a higher SAT score guarantee, which means that students who are not satisfied with their score can study again for free or get their money back.
Unfortunately, the online tests cannot be downloaded or printed, and the only way to take them is via the online interface. As the real test can only be taken with a pen and paper, this gives an unrealistic 'practice run' for the test which can damage candidates' chances. The online software can also be fairly clunky and poorly designed in parts, which may lead to further frustration.
Overall, despite a few issues with the online component, this is still one of the best SAT study guides out there, and its wealth of valuable content and practice resources make it a must-have for anyone looking to take on the test.
Pros:
Fully up-to-date and expanded
Wide range of content covering all relevant areas of the SAT
1400+ practice questions with answers broken down
Strategy advice
Video tutorials
A total of 5 full-length practice tests
Mobile version and online resources
Contains tips from perfect scorers
Digestible and easy to read
Cons:
Some issues with the online resources
No option to print or download the online tests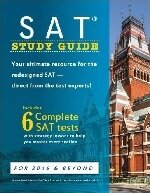 Climbing Mount Everest is much easier with a Sherpa.  This book is your own personal Sherpa for surmounting the SAT.  Written in a highly accessible manner, the SAT Study Guide (subtitle: "Your ultimate resource for the redesigned SAT – direct from the test experts!") categorizes the different question types into easy-to-understand topics and offers strategies for approaching these questions.
Importantly, the book is based on the authors' longstanding SAT test prep experience and their analysis of the latest SAT standards. Based on this, they have designed realistic questions, drills, and strategy lessons, all of which can be found in this guide. It's up-to-date, and covers all the key areas of the test, so readers can be assured of good value for money.
The SAT Study Guide also offers a particularly adept math section, which breaks down and easily explains often hard to understand math topics, including data analysis and advanced math. Armed with hundreds of example problems and six complete practice SATs, this book further enables students to practice, practice, and practice their newly honed skills, which is a sure fire way to boosting SAT scores.
One small issue with the guide is that some of the answers provided lack thorough explanations, so readers are aware of what the correct answer should be, but not why or what to do next time to avoid making the same mistake. Additionally, some of the material (such as the tests) can be found online for free.
Nevertheless, although this book is not written by one of the well-established test prep companies, its quality far exceeds that of various more well-known competitors. SAT Study Guide is a quality find and a hidden gem (with a very reasonable price). We think it's one of the best SAT prep books, and well worth checking out.
Pros:
Accessible and easy to read
Written by experienced authors
Lots of strategy advice
Questions and exercises are realistic and based on personal experiences of the authors
Strong on the math section
Contains 6 full practice tests
Cons:
Some of the answers lack proper explanations
Some of the material can be accessed for free online
We also liked these Study Guides
Boot Camp for Your Brain: A No-Nonsense Guide to the SAT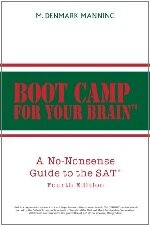 This study guide is perhaps the most unusual and original among the best SAT books. It differentiates itself by taking a "boot camp" approach that aids long-term memorization by deliberate repetition of material throughout the book.
Covering all topics in the SAT, the guide uses inspiring and motivational language to encourage students to work through the sections and overcome laziness. Each section of the test is broken down into easy to manage chunks, eliminating boredom and burnout.
What's more, the book also comes with highly useful vocabulary lists which are relevant to the real test. There are also useful math exercises and writing worksheets to maximize scores in these areas.
The manual also uses a captivating, direct writing style and makes studying for the SAT more interesting by conveying SAT knowledge and test-taking skills via motivating tools such as vocabulary cartoons, mnemonic techniques, or a section entitled the "Panic-Level Module."
The formatting of the guide is rather unique, and may be difficult for some students to follow, in which case a more traditional study guide may be a better option.
There are no full-length practice tests in this book, so we (along with the writers of the guide itself) recommend pairing it with another guide which is heavier on practice materials. This book is a great source of strategy and one of the best ways for students to become familiar with the different topics and question times, but its light, snappy layout means it lacks a huge amount of resources.
This book is designed to make your brain work overtime and it delivers. With its comprehensive and out-of-the-box approach, it clearly has the potential to give your SAT test results a significant boost.
Pros:
Covers all relevant topics
Motivational and inspiring
Breaks down each test section
Useful vocab lists, math exercises, and writing worksheets
Cons:
No full-length tests
Formatting can be difficult to follow at times
Barron's NEW SAT

 with CD-ROM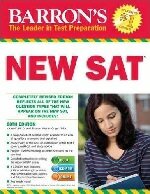 Barron's is one of the most trusted providers of leading standardized testing guides. Its top SAT book offers a good mix of SAT subject reviews, general test-taking techniques, study advice, and specific strategies for each of the new test's sections. It is a straight-forward, no-nonsense manual that provides necessary guidance for building a solid grounding for the SAT.
At over 1000 pages, the guide is pretty bulky, but the reason for this is the sheer amount of information packed inside. It covers a wide range of topics in thorough detail, and the information is presented in a clear and engaging way.
All SAT sections are well covered, although the well-crafted reading passages are particularly strong. The book also includes four challenging full-length model tests (with additional tests on the CD-ROM) with detailed answers and very clear explanations. As a bonus, every purchase of Barron's SAT comes with free access to Barron's online SAT prep course.
The guide also pays attention to the differences between the old and new SATs, which is useful for students who may have taken the test previously.
Unfortunately, some of the practice questions in the guide are outdated, and may not match up to the current SAT syllabus perfectly. That said, most of the material in the book is reliable and invaluable.
While it does not offer any bells and whistles, this is a sturdy and dependable book that will get the job done well, and brings a vast amount of content and material to the table. As far as depth of information is concerned, this is one of the best SAT study guides money can buy.
Pros:
Good mix of content
Straightforward and practical
Reading passages are particularly good
4 full-length practice tests
Free access to the online SAT course
Shows differences between old and new SAT test
Cons:
Some questions are outdated
Cracking the SAT Premium 2018 with 7 Practice Tests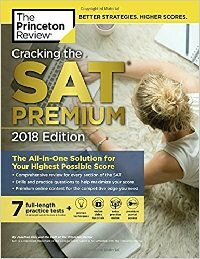 This Princeton Review SAT book promises to help you "crack" the SAT test. While this book has a thorough section on providing guidance with the substance of the revised SAT, its real appeal lies in its provision of key techniques and strategies in taking the test.
For example, it boasts strategies such as "Process of Elimination", which trains test-takers to quickly eliminate incorrect choices on even the most difficult questions. It also uses the fictitious character Joe Bloggs, an average student with average grades, to illustrate how the questions on the SAT are designed to "trick" most examinees into picking the wrong answers and how these traps can be avoided.
Questions are explained well, allowing readers to see the reasoning behind answers and work out where they went wrong to avoid future mistakes.
This book further features four practice tests with answers and instructive explanations. Also included is online access to video tutorials, two additional SAT practice exams, drills, study plans, and other helpful resources. All of the main areas of the exam are covered, with exercises targeted at all different question types.
The guide does omit some information, and while it does a great job of covering the basics it may not be enough to satisfy those aiming for the very highest grades. The practice tests, while useful, are not official and may not be as accurate a predictor of the real test as some of the other guides.
Overall, however, the "Cracking the SAT" approach is convincing and eye-opening, making it a must read. It gives readers a solid grounding in what to expect from the SAT and teaches some highly useful tips and tricks to get the best possible score.
Pros:
Focus on strategy
Highlights common traps and frequent mistakes
4 practice tests
Access to a wide range of online resources
Questions explained clearly
Cons:
Some information is omitted
Focus is on strategy over content
Tutor Ted's Guide to the SAT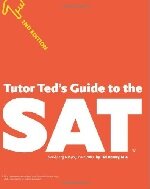 Are you looking for a friendly, conversational approach to study for the SAT? Tutor Ted is here to help.
Written in a humorous and personable style, this book's philosophy is that studying is easier when it is interesting and fun. With more than 800 problems and exercises, Tutor Ted's SAT guide also offers plenty of opportunities to practice and refine your skills. The author, Ted Dorsey, is himself a perfect scorer on the SAT, and he shares his knowledge and experience to help readers get as close as possible to his accomplishment.
The content is concise and clear, with no filler, and all of the concepts and ideas are explained well, making the guide easy to understand without running the risk of overwhelming readers with information.
Note that this book has not yet been updated for the latest edition of the SAT. Still, for test-takers looking for a less serious approach to prepare for the SAT, this title continues to provide value. Nevertheless, since the book is not fully up to date and also tends to be on the easier side, it has to be used together with other manuals from our list of the best SAT prep books.
Pros:
Friendly and conversational
800+ problems and exercises
Concise and clear
Everything is explained well
Written by an SAT perfect scorer
Cons:
Can be a bit too simple
Not completely up-to-date
McGraw-Hill's SAT 2018, Cross-Platform Edition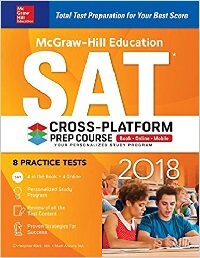 McGraw-Hill has improved and substantially revised its flagship study guide, making the 2018 Cross-Platform Edition (referring to the guide's print, online, and mobile versions that are offered) one of the best SAT prep books and test prep programs on the market. This manual uses plenty of targeted instructions and practice exercises to help you master the SAT.
The book focuses on eight key reasoning skills as the key to achieving high scores and conquering the test. These include, for example, problem mapping and analysis, finding patterns in problems and simplifying them, considering alternatives, and logical thinking.
The math section of the guide is particularly impressive, and along with other chapters includes step-by-step directions and clear, detailed explanations. Complex problems are broken down in an easy to understand way and presented in a reader-friendly format.
Moreover, in addition to six full-length practice tests (the previous edition only had three), the manual now includes neat bonuses such as progress update reports, social study, learning analytics, games and quizzes, and an interactive test planning app for customized SAT study schedules.
One downside to the guide is that some of the content remains unchanged from the previous editions, and hasn't been updated to reflect the new SAT exam. This means that a handful of areas from the new edition of the test are not dealt with fully. Furthermore, some of the answers lack explanations, which may frustrate readers who wish to know why they got a question wrong.
Overall, however, this is one of the better SAT study guides, and its pleasant format and impressive attention to detail outweigh any minor issues.
Pros:
Improved and updated (for the most part)
Focuses on 8 key skills to boost scores
6 full-length practice tests
A host of bonus features including progress reports and learning analytics
Comes with a test planning app
Strong math section
Detailed, clear explanations
Cons:
Some content unchanged from previous editions
Some of the answers lack explanations.
Barron's SAT 1600 with CD-ROM for the New SAT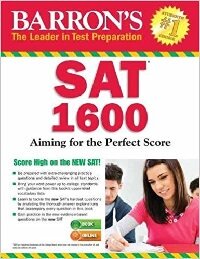 Extra motivated and ambitious test-takers should have a good look at this SAT prep book. Barron's SAT 1600 – a nudge to the redesigned SAT's maximum or top score – is perfect for those who want to go the extra mile. Indeed, the guide wastes no time with easy material and questions but, instead, focuses on the hardest and most challenging parts of the SAT.
Also, this book is probably the best when it comes to applying some of the most effective learning and test-taking strategies to the SAT. It introduces the reader to the Reading Rule of Third, Grammar Counting, and other novel techniques that are useful to mastering the exam. Additionally, the accompanying CD-ROM provides a complete practice test with automatic scoring as well as more questions/explanations.
Unlike some other guide books, Barron's is well adapted to the new test format, and the questions and techniques are relevant to the exam. This gives it an edge over many other study guides, which have failed to keep up to date and contain inaccurate information about the exam.
There are also a small number of errors in the answer key section, which may cause problems for some learners. Hopefully later editions of the guide will fix this, although for now it remains a slight headache.
Despite this, the book operates at a very high level of difficulty, designed to give test-takers the extra edge on the SAT. It may not be the best guide for those test-takers who are aiming to simply scrape through and are unconcerned about hitting a perfect score, but for the more ambitious SAT candidates it's one of the best resources around. Best still, the writing style is clear and friendly and manages to keep its hard-working readers interested.
Pros:
Aimed at high-achievers with an eye on a perfect score
Focuses on the harder parts of the test
Good strategy and tips
CD with practice tests and automatic scoring
Clear and engaging writing style
Well-adapted to new test format
Cons:
Some errors with the answer key section
SAT for Dummies with Online Practice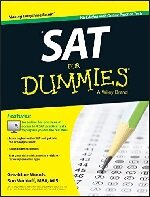 This book from the "… for Dummies" series is among the most light-hearted SAT guides – which by itself is deserving of a spot on our best SAT prep books list. Its instructions are easy to comprehend and its tips and tricks make even the hardest SAT questions looks less fearsome.
Still, the book is clearly far from a joke. Authored by respected test prep experts Geraldine Woods and Ron Woldoff, this guide has been thoroughly updated and fully revised for the 2017 New SAT test version. The guide also provides advice on how to reduce stress before and during the test, a complete practice test, and 12-months access to additional online practice.
The book's main strength is its ability to present useful and reliable strategies in a clear and engaging way. It may not be as heavy on content as some of the bigger guides from specialist SAT publishers, but it's still a valuable source of general exam advice and an enjoyable read.
SAT for Dummies might not be the best book for the most ambitious test-takers, but you are no dummy if you buy it.
Pros:
Light-hearted and reader-friendly
Easy to follow
Updated and revised for the 2017 test
Contains stress-reduction advice
One full practice test and access to 12 months of online materials
Well-known and respected brand
Packed with useful tips and strategies
Cons:
May be a little too simple or general for those aiming for near-perfect scores.
The Insider's Complete Guide to SAT Vocabulary
Vocabulary is one of the most important aspects of the SAT, but all too few study guides exist that focus on this area. The Insider's Guide to SAT Vocabulary, however, is devoted to helping students improve their vocabulary as much as possible and excel in the writing activities of the SAT.
It looks at 500 difficult words, which the author gathered by looking at previous SAT exams, and which are deemed likely to occur in the test. These come complete with examples, in the form of real life sentences which flow well and are easy to understand.
What's more, the guide also offers help with sentence completions and critical reading, dedicating several chapters to each of these. As they form a key part of the exam, this material is highly useful and adds even more value to the book.
As with almost all vocabulary guides, more words would be even better. However, the wealth of useful information presented in this guide in such an accessible format makes it difficult to find any faults.
It's well laid-out, easy to follow, and a pleasure to read, having been put together by a long-term SAT prep expert. For anyone wishing to improve their vocabulary before taking the test, or anyone considering the exam at all, this book is a must-have.
Pros:
Focuses mainly on vocabulary with a list of 500 relevant words
Clear, straightforward examples in sentences
Help with sentence completion and critical reading
Well laid-out and easy to follow
Based on previous SAT exams
Cons:
Could contain even more words
Ivy Global's New SAT Guide, 2nd Edition
For a sleek, effective, and readable guide to strategy that also comes with some excellent practice materials, you should look no further than Ivy Global's New SAT Guide. It contains three practice tests which, while they are not official SAT resources, are still accurate and useful resources for preparing for the test.
The guide is also brimming with invaluable strategy advice and advice on how to do as well as possible in the test. It works best when combined with a more official guide, allowing readers to combine authentic materials with indispensable strategy guidance.
Unlike some other guides, this one is fairly slim and compact, so you can carry it around without risking a hernia, and it's easy to read.
One issue is that the answers to the questions are not provided in the book. Instead, readers have to go online to the Ivy Global website to access these, which may be a little inconvenient but helps to keep the book light.
Overall, this is an excellent strategy guide which works best in tandem with some of the more practice-heavy SAT prep books out there.
Pros:
3 practice tests
Tons of great strategy advice
Accurate; questions closely resemble real SAT questions
Works well with official question-based guides
Light and easy to transport
Cons:
Answer explanations are only available online, not in the book itself
The College Panda's SAT Math: Advanced Guide and Workbook
For many students, the math section of the SAT is by far the hardest, and achieving a good score can sometimes seem impossible in this area. Fortunately, The College Panda's Sat Math guide is the perfect solution – providing over 500 practice questions focusing on math and similar to the questions on the real SAT.
In addition to this, the guide also breaks down common mistakes, and covers all the fundamental math topics necessary to do well in the exam. These are supplemented with in-depth examples and explanations, along with coverage of common wrong answers and how to go about avoiding them.
Everything is presented in an easy to follow, digestible format, so students can absorb all the information without becoming overwhelmed or frustrated. What's more, the content has something for everyone regardless of ability level, so both beginners and math whizz kids can benefit from this guide. It's concise, straightforward, and doesn't waste your time.
Overall, this book is perfect for anyone looking to improve their math skills for the SAT. The only downside is that it doesn't cover the other sections!
Pros:
Focus on math
Over 500 practice questions, similar to the real SAT
Contains common mistakes and how to avoid them
Rich in examples and explanations
Covers all the main math topics
Easy to follow and digest
Concise and straightforward
Has something for students of all ability levels
Cons:
Specific to the math section – must be supplemented with other guides
Additional Resources
While we recommend investing in one or more of the above prep books to give yourself the very best chance in the SAT, there are also a number of other resources available online to assist with your studies.
As the SAT is such a popular and widely taken test, there are a huge number of different options, and you should have no problem finding the one that's just right for you. Best of all, many of these are completely free, and can be accessed from your computer or even mobile devices.
The Khan Academy is one of the largest online learning resources out there, and comes packed with courses on a wide range of different topics. It has a section devoted to SAT prep, which offers 8 full-length practice tests, tips on how to do well, a personalized practice plan, and the opportunity to get instant feedback.
What's more, users can access a wealth of extra materials such as questions and video lessons to keep the learning process fresh and interesting. It's completely free, and accessible from anywhere with an internet connection, making it a perfect resource for those for whom cost is a factor.
The Khan Academy is a general source, so don't expect material to be as specific and authentic as that from official SAT sources, but it still offers a good range of exercises and a valuable means of preparing for the exam.
This resource is brought to you by the makers of the SAT, which gives it a credibility and accuracy that other materials may lack.
It brings a variety of practice options to the table, including a variety of questions and a full length test. This is then dissected with feedback on answers and the opportunity to look at where you went wrong and how to avoid mistakes in the real test.
Unlike some prep resources, College Board allows users to print the test out, so they can take it with pen and paper, a method that is recommended as the best way to become familiar with the test-taking procedure.
It may not have as much material to offer as some of the other platforms out there, but as an authentic and effective means of preparing for the SAT, it's up there with the best.
The College Board also offer an app, called The Official SAT Question of the Day, which sends users three questions each day from each section of the SAT (Math, Critical Reading, and Writing). It also offers explanations for incorrect answers. It's a great way to factor SAT prep into your daily routine without being overwhelmed by information.
Magoosh specialize in providing test prep for a range of exams with a friendly and accessible tone. Their SAT materials are no different, and contain a variety of questions and exercises covering a wide range of difficulty levels.
The questions are supplemented with videos and a clean, easy-to-navigate online format, which makes the process not only easier but much more pleasant. All of the instructors are experts in test prep, and they're ready to provide feedback and support to members of the community whenever it's required.
The service isn't free, but it does provide a good return on what you spend, and Magoosh is an excellent choice for those who have some money to spend.
We also recommend StudyCrossing. This is a startup platform that aims to connect test-takers and test prep experts. It lets you find SAT study groups and study partners. You can choose to join an online study group or a meetup group that gets together in your town or city. You can also start your own study group and invite other users or your friends to join.
Vocabulary is a big part of the SAT, and something many candidates struggle with. Rote memorizing huge lists of words can get tiring and de-motivating, so lots of students end up neglecting this skill and performing badly in the final test.
Fortunately, IntelliVocab is here to help. This app, available for free on the Apple store, uses cutting-edge research and technology to deliver the best results. It uses a system of algorithms to calculate the best approach for you personally, based on your own strengths and weaknesses, and suggests activities that are best suited to you.
The more you use the app, the more it will learn about you, making the process easier and more rewarding. Although the basic version contains only 292 words, this is still enough to prepare you well for the test, and a premium version with more words is available for a very reasonable price.
The fact that it's an app is pretty cool too, and means you can take it with you when you're on the move.
The SAT is one of the most important tests many college applicants will ever take, as it can make or break applications and define the course of your higher education. As a result, it's highly important that you prepare adequately and take all the steps necessary to maximize your chances.
The best SAT prep book materials we've listed here will certainly boost your likelihood of getting a high score on the SAT. Of course, it would be impossible to buy and read through all of them, so we recommend taking some time to find out your strengths and weaknesses and picking the best guide for you.
Best SAT Prep Course  Browse All SAT Books   About the SAT
Best SAT Prep Book
| Ranking | Publisher | Book Title | Pages | Year | Practice Tests | Price Range |
| --- | --- | --- | --- | --- | --- | --- |
| 1 | College Board | Official SAT Study Guide | 650 | 2015 | 4 | $$ |
| 2 | Kaplan | SAT Premier | 960 | 2016 | 5 | $$ |
| 3 | Keystone Educational Publishers | Keystone's SAT Study Guide | 630 | 2016 | 6 | $ |
| 4 | XLIBRIS | Boot Camp for Your Brain | 528 | 2014 | N/A | $ |
| 5 | Barron's | Barron's New SAT | 936 | 2015 | 4 | $$ |
| 6 | Princeton Review | Cracking the SAT Premium | 832 | 2015 | 6 | $ |
| 7 | Tutor Ted | Tutor Ted's Guide to the SAT | 370 | 2014 | N/A | $ |
| 8 | McGraw-Hill | SAT Cross-Platform Prep Course | 688 | 2016 | 6 | $ |
| 9 | Barron's | SAT 1,600 | 416 | 2015 | 1 | $ |
| 10 | John Wiley | SAT For Dummies | 408 | 2015 | 4 | $ |