Are you looking for the best NCLEX review book to prepare you for the NCLEX-RN or NCLEX-PN exams in 2018? Our editorial team has compiled a list of the Top 10 best NCLEX books and study guides for you. Read below on why these prep materials are the most effective to help you master the exam. For those who are interested in more in-depth preparation, we've also compiled a separate overview of the best NCLEX review courses on the market.
A Short Introduction
The NCLEX is an exam that will be familiar to anyone looking to pursue a career in nursing in the U.S. It's required for graduates of nursing school who wish to become qualified nurses.
Candidates for the test are assessed in a variety of areas including critical thinking, decision making ability, and nursing specific knowledge. The test is updated and changed regularly in accordance with nursing trends, but certain parts remain the same.
The NCLEX can be difficult – as it's fairly dense and covers a broad range of subject matter. However, it's possible to score highly on the test if you are prepared to invest some time into preparation. One of the best ways to do this successfully is to buy an effective NCLEX study guide.
The best NCLEX Review Books – Our Top Picks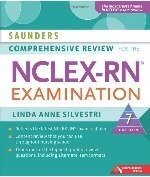 Saunders' top rated study guide is widely accepted as one the of best NCLEX review books – if not the best NCLEX book – on the market (in addition to the NCLEX-RN version, it is also available for the NCLEX-PN examination).
As it turns out, this honor is well deserved. Saunders Comprehensive Review, authored by expert nursing instructor Linda Anne Silvestri, Ph.D., provides you with 1152 pages of content to give you complete confidence and to prepare you for the exam.
Organized in 20 units and 77 chapters, the book offers detailed reviews of all of the nursing content areas that are relevant for the NCLEX-RN. Equally important is the guide's provision of practice questions: Each chapter includes targeted multiple choice and alternate item review questions and there is a comprehensive test covering all subject areas in the book's final unit. Every question is accompanied by detailed answers and explanations. Furthermore, as part of these explanations, the book also provides helpful test-taking tips and strategies on how to tackle the various types of questions.
The book comes with a companion CD-ROM that offers, among other helpful features, additional audio and video questions simulating the actual test format. Together with the CD-ROM, Saunders offers a total of 5,200 practice questions, satisfying even the most industrious of students.
One possible issue is that the difficult level of the questions is occasionally a little off, and may be easier or harder than the questions in the final exam. However, this is a minor issue and shouldn't deter anyone from purchasing the guide.
In sum, this classic is a complete manual that does an excellent job at teaching test-takers everything they need to know to master the NCLEX-RN exam. In its fully updated 7th edition (for the latest NCLEX-RN test plan), it is better and more up to date than ever. Saunders is simply a must-buy!
Pros:
Long and full of content
Detailed reviews of all sections
Comes with a total of 5,200 practice questions, including multiple choice and item review questions
Final test at the end
In-depth answers with explanations
Help with strategy
CD with additional questions
Cons:
Difficulty level may not be in line with the real test at times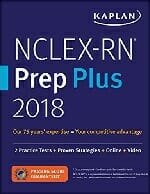 Often for standardized tests, the key to acing them is mastering the techniques of taking the test.  In this regard, Kaplan's NCLEX-RN Prep Plus 2018 is superb.  Offering both tips and strategies for taking computer adaptive tests generally as well as specifically for the NCLEX-RN exam itself, this book spends considerable effort in working to improve test-takers' abilities to ace the test.
Nevertheless, readers should note that this manual is less helpful as a guide to reviewing the substantive areas of the test.  For that, the Saunders Comprehensive Review book is far more ideal.  Instead, this guide's strength comes from the effective strategies it offers in taking the test.
The book offers a full-length NCLEX practice test as well as an answer key and detailed explanations for all the answers.  In addition, it offers access to a second NCLEX practice test online.  Exam-style questions broken down by each of the sections of the NCLEX-RN test, DVD video tutorials, and mobile study resources are also provided.  Further bonuses include a guide on becoming licensed, tips for taking the test after previously failing it, and a guide for international nurses.
All in all, this Kaplan book is likely the best NCLEX review book to complement the Saunders Comprehensive Review. Alternatively, for those who already feel comfortable with the content of the test, it's an excellent strategic guide on how to ace the exam on its own.
Pros:
Help with techniques and effective strategies
Full-length practice test with answer explanations, as well as an additional online practice test
DVD study materials
Mobile-friendly resources
Extra guides such as how to become licensed
Cons:
Focuses mostly on strategy – should be complemented with another guide for best results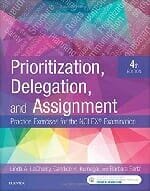 Mirroring the pressures of modern healthcare environments, roughly a fifth of the NCLEX-RN tests skills in the area of prioritization and management of care. Naturally, a strong performance on the exam depends in great part on how well you perform in this regard.
This is precisely where LaCharity's Prioritization, Delegation, and Assignment study guide (subtitle: Practice Exercises for the NCLEX Examination) comes in. LaCharity is among the very best NCLEX review books for bringing test-takers' knowledge and mastery of prioritization, delegation, supervisions, and patient assignment to the level that is required to shine on the day of the exam. It has now also been updated and released in a 2018 version.
To this end, the guide provides focused content review, case studies, and challenging practice questions – complete with detailed answers – that mirror the various types of questions that you may encounter on the actual exam. Especially noteworthy is this book's effective threefold organization, which progresses from foundational skills review, to application of those skills, to extension to complex patient/health scenarios.
In this latest edition, the book added even more helpful features. These include an interactive question functionality with optional online answer submission and scoring, coverage of the QSEN (Quality and Safety Education for Nurses) initiative, and NCLEX chart format questions.
Don't let this book's relatively compact format fool you: This is an essential book for preparing one of the core areas of the NCLEX-RN exam.
Pros:
Focuses on the 'prioritization and management of care' section of the test
Content review, case studies, and practical questions with answers included
Well structured and organised
Interactive questions
Online submission and scoring
Coverage of QSEN
Cons:
Only focuses on one area of the NCLEX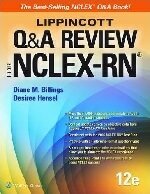 Practice is king when it comes to any test preparation, and the NCLEX is not any different. Luckily, therefore, future test-takers can rely on Lippincott's Q&A Review for NCLEX-RN. This book, authored by professors from the Indiana University School of Nursing, is completely geared towards learning through practice questions and answers.
With its impressive number of 6,500 questions and answers, Lippincott's Q&A is the giant among NCLEX practice guides. Moreover, the guide's companion PassPoint online database – which contains this guide's practice questions – adds substantial value to the overall package. The online resource allows users to take questions in either study and review mode.
Finally, for those thirsty for even more practice, the book can be purchased together with Lippincott's NCLEX-RN 10,000, an online program that generates personalized, adaptive NCLEX quizzes designed to boost its users' skill levels.
Already updated to the latest (2018) test format, this NCLEX prep book's questions are highly realistic. Lippincott's Q&A is simply an invaluable tool to get you into exam-taking mode.
Pros:
Focus on learning through practice questions
Contains 6,500 questions and answers for practice
Online PassPoint database with practice questions
Online questions in study or resource mode
NCLEX-RN 10,000 – optional online resource with personalised questions
Questions are reflective of the real NCLEX
Cons:
Some potential issues with the CD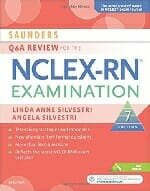 An excellent companion to Saunders Comprehensive Review, this book focuses on test-taking strategies for the NCLEX-RN.
Now offering more than 6,000 test questions, the guide provides an excellent source for garnering practice with NCLEX-RN type questions.  Practice, after all, is often the difference between a passing and a failing score, and this book makes sure that you will get that much needed practice.
Included with this NCLEX book is an online pre-test which allows test-takers to identify areas of weakness even before they begin studying.  In addition, it provides detailed rationales for both the correct and incorrect answers to the practice questions provided, enabling test takers to understand why they answered questions correctly or incorrectly.
Saunders Q&A Review is not as comprehensive as Lippincott's Q&A. Overall, however, for those who prefer a more compact Q&A guide, this is still an excellent tool to have in your prep arsenal.
Pros:
Offers test strategy guidance
Comes with over 6,000 practice questions
Online pre-test to help students identify their areas of weakness
Offers explanations of why test-takers answered the way they did and the reasoning behind common incorrect answers
Cons:
Smaller and less detailed than some other guides
Only strategy – must be supplemented with a content-based guide
We also like these NCLEX Guides: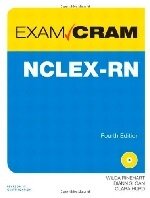 "Don't cram for the exam." Most of us have been taught that cramming and overloading your brain shortly before an exam does not work.
Think again! Wilda Rinehart and Diann Sloan's NCLEX-RN Exam Cram (published by Pearson) is one of the best NCLEX review books when it comes to efficient and focused test preparation.
Exam Cram targets precisely the content areas that readers need to excel in for the highest possible test scores. With its 545 practice questions, practice exams, hotlists with core concepts, introduction to test-taking strategies, tear card with key concept drills, and alerts that highlight the most important points to remember for the exam, this is the top NCLEX study guide for last-minute brush-ups.
Offering an excellent layout and a unique ability to provide complex information in an accessible and easy-to-follow manner, Exam Cram is highly useful as a longer-term study companion.
Whether cramming works for you or not, this book – which comes with a CD-ROM with additional test questions and has a companion practice book with 1,340 sample test questions – just might do the trick.
Pros:
Efficient, quick prep for those who are short on time
545 practice questions
Practice exams
Hotlists with core concepts
Help with strategy
CD with extra questions
Well laid-out and structured
Easy to read and follow
Cons:
Contains fewer questions and less information than some other guides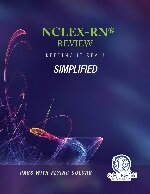 Keeping it Real! Simplified, authored by successful and experienced NCLEX prep specialists, provides a fresh new approach to nursing content review.
With its eleven chapters (490 pages) with content organized around body systems, this guide is meant to serve both NCLEX test-takers and those preparing for exams in nursing school.
Available exclusively as an eBook, this innovative guide utilizes audio-visual material and virtual learning to present NCLEX material in an interesting and memorable manner. The authors also take a personal approach, relating insider views on the nursing profession using their own experiences. Importantly, the guide also features challenging and realistic practice questions that simulate those that are encountered on the NCLEX-RN.
The eBook can be downloaded onto computers, smart phones, and Kindle. With this book, which is already geared towards the latest NCLEX version,  studying on the go has never been easier and more fun.
Pros:
Content based on body types
Also useful for those studying for exams in nursing school
Uses virtual learning and audio-visual materials
Draws on the personal experiences of the authors
Realistic practice questions
Can be downloaded onto various devices
Cons:
Can be quite technical in parts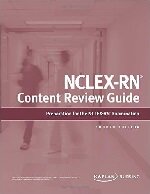 Covering all of the content of the NCLEX-RN, this book, written by test NCLEX prep specialist Kaplan, provides a concise and highly accessible overview of all the main topics found on the exam. It has been updated and is now, in its fourth edition for 2107, once more fully up to date with the latest NCLEX requirements.
While not providing in-depth coverage of the material on the NCLEX-RN, the Content Review Guide  instead focuses on offering an overview or brief review of the topics in an easy to read and practical format.
For those looking for a quick refresher of the NCLEX-RN topics that are typically taught in nursing school, Kaplan's Content Review Guide – in conjunction with additional study guides – may well offer an ideal option.
Pros:
Provides a good breakdown of all the key topics in the exam
Concise and accessible
Easy to read
Good as a refresher for those who are short on time or have a larger book for reference
Cons:
Not as detailed as other guides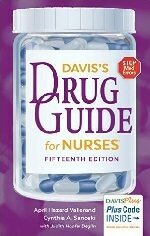 Containing one of the most comprehensive resources for drug identification and comprehension, Davis's Drug Guide for Nurses is likely the very best NCLEX review book for learning (or relearning) about drugs that appear on the examination (it even includes content specific for Canada).
As an added bonus, readers of this latest edition are also offered valuable online resources (DavisPlus), which include printable drug monographs, an audio library for drug names, flash cards, video clips, and audio tutorials. Moreover, a one-year subscription to Davis's online drug guide is also part of the deal.
A one stop shop for drugs, this specialized manual is an excellent addition to your NCLEX-RN test materials.
Pros:
Focus on drugs
Highly comprehensive and detailed
Includes access to online resources such as an audio library for drug names, flash cards, and video materials
Also comes with a one-year subscription to the Davis online drug guide
Cons:
Fairly specific content; only useful for those who wish to improve their drugs knowledge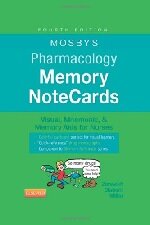 For visual learners struggling to master pharmacology, Mosby's Memory NoteCards offers an excellent study aid to help you distinguish your anticoagulants from your antibiotics.
Offered in a spiral bound volume that makes it highly portable, these notecards facilitate comprehension of pharmacology-related issues through use of mnemonic devices, colourful illustrations and strained attempts at humor.
Mosby's Memory NoteCards are a must for graphic organizers!
Pros:
Useful for visual learners
Help students memorise large amounts of information
Handy mnemonic devices and appealing design
Best NCLEX Review Book
| Ranking | Publisher | Book Title | Pages | Year | Practice Tests | Price Range |
| --- | --- | --- | --- | --- | --- | --- |
| 1 | Saunders | Saunders Comprehensive Review for NCLEX-RN | 1152 | 2016 | 1 | $$ |
| 2 | Kaplan | NCLEX-RN Premier | 540 | 2017 | 2 | $ |
| 3 | Mosby | Prioritization, Delegation, and Assignment | 256 | 2013 | N/A | $$ |
| 4 | LWW | Lippincott Q&A Review for NCLEX-RN | 1132 | 2016 | 6 | $$ |
| 5 | Saunders | Saunders Q&A Review for the NCLEX-RN | 704 | 2014 | 1 | $$ |
| 6 | Pearson | NCLEX-RN Exam Cram | 672 | 2016 | N/A | $ |
| 7 | Sylvia Rayfield & Associates | NCLEX-RN Review: Keeping it Real! Simplified | 752 | 2013 | N/A | $$ |
| 8 | Kaplan | NCLEX-RN Content Review Guide | 648 | 2016 | N/A | $ |
| 9 | F.A. Davis Company | Davis's Drug Guide for Nurses | 1488 | 2016 | N/A | $$ |
| 10 | Mosby | Mosby's Pharmacology Memory NoteCards | 214 | 2014 | N/A | $ |