Are you looking for the best USMLE books and study guides? Our expert team has selected the 10 best USMLE books for 2018. See below for reviews of the most effective study guides that we think will help you master each step of the USMLE (scroll down to find books for each exam). If you desire more encompassing help, feel free to also check out our selection of the best USMLE Step 1 Prep Courses.
Best USMLE Step 1 Books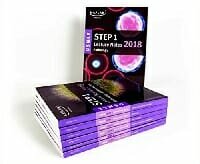 Are you looking for reliable and highly thorough coverage and review of all the material on the USMLE Step 1 examination? Then look no farther than Kaplan's USMLE Lecture Notes.
Containing seven individual guides covering information on Pathology, Pharmacology, Physiology, Biochemistry and Medical Genetics, Immunology and Microbiology, Anatomy, Behavioral Science, Kaplan's USMLE Step 1 Lecture Notes provide a reliable, comprehensive review of the important topics on the Step 1 examination. The individual guides are also chock full of colorful illustrations, logically organized and easy-to-understand content, and chapter summaries that conveniently sum up the highlights of each covered section.
These notes are what Kaplan use as the basis for their own USMLE prep courses. Given the outline format, these books are ideally used in conjunction with either a live or online course, although this is by no means necessary as they are highly beneficial by themselves. Nevertheless, because they are linked to Kaplan's course, you can rest assured that they are compiled by leading experts and continuously updated.
While these USMLE 'outline' books do not cover each of the topics in the same intense depth as an actual USMLE prep course, they are still excellent, which means that the Lecture Notes easily make it onto our list of the very best USMLE Step 1 review books and preparation resources.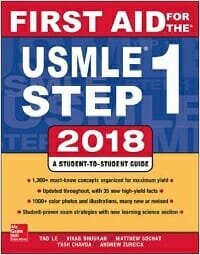 The best-selling 'Bible' of Step 1 preparation, First Aid for the USMLE Step 1 is one of the very best USMLE Step 1 books.
Providing a helpful framework for test preparation, top rated First Aid for the USMLE Step 1 not only provides an overview of high-yield principles and systems but it also provides strategic advice on how to actually take and succeed on the exam.
Of special note are this popular study guide's fantastic photographs and diagrams, which colorfully illustrate various topics. While this preparation book will not provide the entirety of substantive knowledge needed to pass the Step 1 examination, as a tool for clarifying, illuminating, and organizing Step 1 test study, this is, by far, the best USMLE book available. For best results, use it in conjunction with First Aid Basic Sciences General Principles and Organ Systems.
As a welcome bonus, readers of this book become part of an active community, with the First Aid website offering frequent updates, errata, and study advice and schedules by the First Aid team and other users.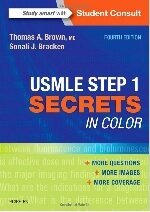 USMLE Step 1 Secrets, authored by experts Thomas A. Brown, MD and Sonali Sah, is effectively a companion book to the First Aid for the USMLE book.
Indeed, this USMLE Step 1 review book and study guide book provides a complementary and, at times, pleasant change, from the First Aid book. USMLE Step 1 Secrets offers a more specific and efficient approach to the USMLE high yield principles and, importantly, also provides greater depth to the each of the topics tested on the exam.
This book, furthermore, provides clinical vignettes to each of the discussed topics, making it often easier to recall the details being discussed. Written in a highly accessible style, this is one of the best USMLE books. Ideally used in conjunction with the First Aid for the USMLE Step 1 review book, this should definitely be part of your USMLE Step 1 preparation arsenal.
Best USMLE 2: CK Books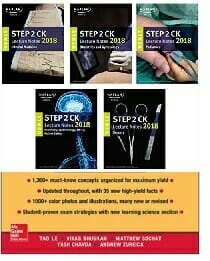 Looking for a more thorough review of the CK materials? USMLE Step 2 CK Lecture Notes may well be the answer.
Kaplan's Step 2 CK Lecture Notes offer 5 volumes of material. The collection includes separate books on Internal Medicine, Surgery, Obstetrics & Gynecology, Pediatrics, and Psychiatry, Epidemiology & Ethics.
Written in Kaplan's easy to understand style and by experienced Kaplan USMLE specialists, the Lecture Notes provide a level of detail and thoroughness not found elsewhere. Their depth and comprehensive nature make them one of the best USMLE books available for a complete run down of the CK materials. Highly recommended for the most ambitious test-takers!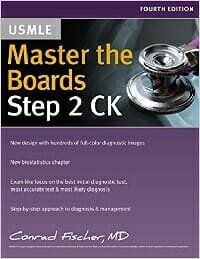 As its already title suggests, Master the Boards USMLE Step 2, CK (subtitle: Targeted Review in Full Color) is a master at providing high yield information in a concise manner. This approach works extremely well for this widely used review book, which is authored by Conrad Fischer, MD, and published by Kaplan.
Written in an accessible, easy-to-understand style, Master the Boards highlights important information by providing tips, side boxes, and bold print as well as particularly helpful explanations for questions.
This book , now in its third edition, purposefully designed to be a targeted review book, giving test-takers quick access to the most important information. Thus, at slightly more than 600 pages, Master the Boards USMLE Step 2, CK is far from comprehensive. Therefore, it will likely need to be complemented with other study guides or, as the author suggests, with Kaplan's Step 2 High Yield Course.
Nevertheless, as a tool for concise review it is unbeatable and therefore recommended as one of the best USMLE Step 2 books out there.
Step-Up to USMLE Step 2 CK is ideal for those looking for a concise, highly organized review book.
Bursting with colorful illustrations and written in precise language, Step-up to USMLE Step 2 is a compact prep guide designed to provide test-takers with a strategic, systems based review of all the information necessary to master the exam. Nevertheless, this guide is easy to follow and, thanks to its use of mnemonic techniques, promises to by highly effective for a range of different test-takers.
Offering content and rich review materials on all the tested topics,  as well as additional study resources including countless practice questions, this is one of the very best USMLE Step 2 books available on the market.
For a 'quick and dirty' prep for Step 2 CK, this is the book to have.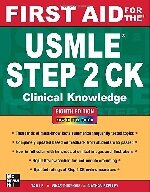 Are you a USMLE First Aid series convert? Then this title, published under the auspices of McGraw's medical publishing arm, may be the ideal USMLE Step 2 prep book for you.
Written by the same authors – former students who successfully passes the exam – as the USMLE Step 1 book of the same title, this guide offers a conversational style of writing that is easy to digest. In terms of substance and content, this book also provides test-takers with full color illustrations, good content coverage, bulleted lists of information, and a quick review section.
While far from complete in its coverage, First Aid for the USMLE Step 2 CK is one of the best USMLE Step 2 review books. Why? First Aid offers highly targeted and effective coverage of Step 2 CK materials, is based on the authors own test-taking, experiences, and is regularly revised based on feedback by recent test-takers.
Best USMLE Step 2 CS Books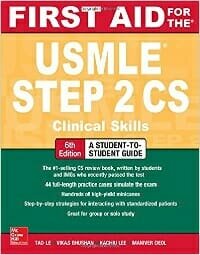 This book from the successful First Aid-series offers excellent preparation for the methodology needed to approach the patient encounters found on the Step 2 CS examination.
The key assets offered by the First Aid for the USMLE Step 2 guide are the 44 realistic full-length practice cases, which even include suggested case closing statements. However, there is more. The books also contains a discussion of helpful test-taking strategies, mini cases (which are perfect for quick diagnoses), and practice cases with thorough explanations. Clearly, the authors – former students and USMLE test-takers themselves – know what it takes to master the exam.
Finally, the entire material is presented in an easily accessible style. This, combined with the thoroughness and hands-on practicality of this book, make it the best USMLE Step 2 CS review book. Just like the othe titles in this series, First Aid for the USMLE Step 2 CS deserves its popularity and best-selling status.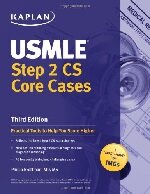 With 43 practice cases, Kaplan's USMLE Step 2 CS Core Cases offers a comprehensive test prep resource.
Step 2 CS Core Cases offers strategic advice on taking this step of the USMLE, provides thorough information on how to provide diagnostic reasoning documentation, and contains good explanations for each of the practice cases. Moreover, of particular note is this prep book's physical exam section, which offers a systematic explanation of how to engage in special tests and manoeuvres for each system.
While lacking the mini cases of its main competitor, the First Aid for the USMLE Step 2 CS, this guide provides different practice cases, thereby offering an excellent (and necessary) complement to the First Aid book.
For this reason, this is the second best USMLE Step 2 CS book available and one that we would strongly advise to by alongside the First Aid book.
Best USMLE Step 3 Books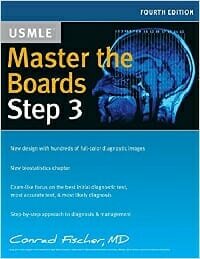 Likely the most comprehensive Step 3 book on the market, Master the Boards USMLE Step 3 offers a plethora of substantive information in one source.
Written in the easy to understand style that is typical for Kaplan's Master the Boards series, this book provides basic science information that is sufficient in detail but avoids going over the top. This study guide also offers patient safety notes, helpful guidance on arriving at the correct diagnosis, and a guided approach to diagnosis and management.
While the book should not to be relied on alone, its organized approach to cover the testing material and its concise style mean that this is one of the best USMLE Step 3 review books test-takers can currently get their hands on.
For those looking to return to a familiar format, the First Aid series returns once more with another book that makes it onto our list as one of the best USMLE Step 3 review books.
First Aid for the USMLE Step 3 is great as a source of concise information and relevant questions. This book offers adds a fun factor to your studies through full-color illustrations, countless high yield facts, mnemonic devices, and helpful aids for visual learners. Most notably, however, First Aid also comes complete with more than 100 mini-cases, which can be used to prepare for the CCS portion of the exam.
While not a comprehensive book, this title – like the other titles from McGraw-Hill Medical's First Aid for the USMLE series, is still very worthwhile, mainly – but not only – for the mini-cases.