Are you looking for the best TOEFL books to help prepare you for the test and boost your score? Look no further. Here are our reviews and list of the top 10 best TOEFL preparation books for 2018 to 2019, along with reviews.
Although any of these recommended TOEFL study guides (often misspelled as "TOFEL") would be an excellent choice, see for yourself which guide meets your particular needs best.
TOEFL and English Mastery
Learning English as a second language can be a tricky process at the best of times, but it comes with immeasurable benefits. Having a high level of English can open doors into better jobs, increase traveling opportunities, and make it easier to communicate with people from all over the world.
Gaining a qualification in English can be even more useful, as it proves to employers, universities, and countless other opportunities. It can be scary, and preparation might take a lot of effort, but a certification in English can be a real boost to your prospects.
The TOEFL is one of the most highly respected and widely known ESL qualifications out there, and gaining a good score in this is a great way to stand out from the crowd and impress others.
Studying for this test can be tough, however, and to give yourself the best chance possible it helps to invest in a good study guide. Fortunately, there are plenty. We've highlighted the best ones below.
Our Team's Top 3 Picks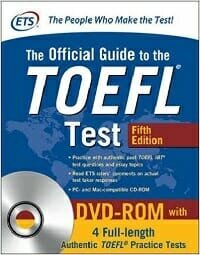 Educational Testing Service (ETS), the makers of the TOEFL Test, are the publishers of this official TOEFL test study guide, which was recently released in its latest and updated version for 2018-2019. Because of the official test administrators are behind this TOEFL book, the guide is highly reliable, making it one of the most essential and best TOEFL preparation books currently on the market for test-takers.
The official guide contains authentic TOEFL questions, sample texts that were written by previous test-takers, and four previously administered practice tests with answers and explanations. However, test takers have access to a more recent set of authentic tests by purchasing Official TOEFL iBT Tests Volume 2, published last year also by ETS.
Having the "real" questions gives students an accurate sense of the level of difficulty and what is actually expected of them on the day of the test. Finally, the book concludes with a helpful section at the end, the "Writer's Handbook," that explains basic English language principles.
Overall, this is a great choice for TOEFL preparation, although test-takers are well advised to supplement the guide with other study aids that contain additional model exams.
Pros:
Official and reliable
Plenty of questions and three authentic practice tests
Sample texts from previous students
Useful information and strategy guidance
Cons:
DVD interface is different from the real test
Still relatively low number of practice tests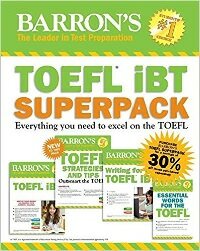 Barron's TOEFL iBT Superpack study set is with good reason one of the most popular TOEFL test prep guides.
This newly released set for 2018 consists of four essential books and multimedia resources: Barron's TOEFL iBT manual with MP3 and audio CD (for all of the book's practice test questions, practice TOEFL tests, an additional TOEFL test with automatic scoring), Barron's Writing for the TOEFL iBT book with MP3 CD, TOEFL Strategies and Tips with MP3 CD, and the Essential Words for the TOEFL guide to enhance your vocabulary.
The heart of this set is however Barron's TOEFL iBT manual. This resource is notable for providing a comprehensive yet clear and accessible guide that will help you familiarize yourself with the basics of the TOEFL test and its listening, speaking, reading, and writing sections. TOEFL iBT also includes seven practice tests with detailed notes and explanations. There is also a section that outlines the key academic skills necessary to ace the test, such as note taking and synthesizing, and access to TOEFL video lessons.
With the TOEFL Superpack, studying becomes more interesting and efficient thanks to mix of books, audio and MP3 CDs, practice questions and tests, and  video lessons. This is clearly one of the best TOEFL study guides – highly recommended!
Pros:
Four books with multimedia resources
Audio materials for help with listening practice
Helps readers become familiar with the different test sections
Provides help improving necessary skills
Updated and corrected from previous versions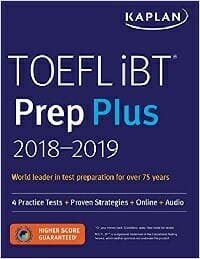 TOEFL iBT Prep Plus 2018-2019 (with CD-ROM, online and audio) by Kaplan (they also offer TOEFL test prep courses)  is an extremely well-rounded and trusted test preparation guide. It contains language and grammar exercises and explanations, instructions on test-taking strategies, study tips, and access to video tutorials.
One of the most appealing parts of this book is its outline of the various types of questions that test-takers may encounter in each portion of the exam. For example, the book breaks down the Reading section into various questions types, such as not/except questions, vocabulary questions, drag-n-drop summary questions, etc. These question analyses are then followed by specific strategies to improve your score for each TOEFL section.
There is also plenty of practice material. The hardcopy book contains hundreds of questions while its online resource area features four full-length model tests (with answers and explanations) that simulate the actual TOEFL iBT interface. The CD-ROM includes audio tracks to simulate the test's listening section.
Overall, this book is one of the most complete TOEFL books available and, therefore, easily makes it onto our list of the Top 10 best TOEFL books.
Pros:
Covers all areas of the test
Contains over 450 questions and four full-length practice tests
Access to 12 video tutorials
Outlines different question types and how best to solve them
Comes with audio materials to practice listening
Cons:
Practice tests are only available through the online portal, which can be difficult to use
We Also Liked the Following Study Guides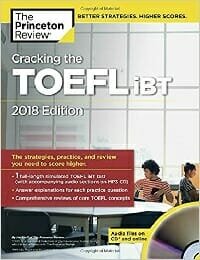 This TOEFL book by the Princeton Review, now in the latest version for 2018, is designed to help you "crack" the test. To that end, it features in-depth grammar reviews, practice drills with answers and explanations, and – in keeping with its title – emphasizes strategic advice on mastering the test and its different sections (Reading, Listening, Speaking, and Writing).
The book does not waste any time with lengthy introductions. Instead, it focuses on easy to apply techniques that make the questions and tasks manageable and promise to translate into high test scores. Moreover, in order to give test-takers a more accurate sense of what to expect when taking the exam, Cracking the TOEFL iBT comes with a full-length simulated TOEFL iBT practice test and audio exercises on an accompanying audio CD (which is MP3 compatible) as well as in the form of streaming files online.
In sum, although the material could be more challenging and further practice exams would be helpful, this is a very solid tool.
Pros:
Covers all four sections
Grammar reviews
Practice questions, including one full-length test
Contains test-taking and time-saving strategies
Audio CD to practice listening
Cons:
Difficulty level may be a little low
Only contains one full-length test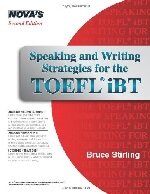 This exciting book, now in its 2018 edition, is very different from other study guides as it focuses on increasing your TOEFL score by targeting its speaking and writing sections.
First, the main strategic approach it follows in doing so is "argument mapping." This multi-faceted innovative technique helps to effectively develop and deliver written and spoken arguments by using, for example, deductive and inductive approaches or by developing a number of sophisticated writing strategies.
Second, the guide contains instructions on crafting high-scoring responses for the test's various speaking and writing tasks, explores rhetorical skills and opinion development, and discusses how to limit errors and improve scores by revising your responses.
Of course, as this guide is fairly specific, it won't be much use for those who want to focus on other areas of the test such as reading and listening, or for those who are looking for a more general, overall guide. If you fall into one of these categories, it's best to combine this book with another one.
In sum, this is a very clever, effective, and thought-provoking manual and a must-have for any student who wishes to boost their speaking and writing scores.
Pros:
Focus on the speaking and writing sections of the TOEFL
Provides help with constructing arguments and expressing points of view
Well laid out and easy to follow
Cons:
Doesn't deal with the reading/listening sections of the test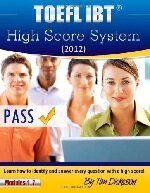 This TOEFL book (subtitle: "Identify and Answer Every Question With A High Score!") is based on easy to follow instructions on how to approach the questions on the TOEFL.
For the essay section, for instance, the author introduces readers to the best ways of drafting an introduction and discusses the ideal ways to effectively support your opinion. For the speaking section, the book reduces the stress-level for this dreaded portion of the test by providing a general strategy on how to structure your answers.
Finally, the guide uses an explanation of how the TOEFL is scored to explain how the various questions should be analyzed and answered.
This is one of the best TOEFL study guides if you are looking for an in-depth strategic approach. However, it should be supplemented with one or more prep books that contain more exercises for maximum effect.
Pros:
Packed with simple tips on how to do well in the TOEFL
Contains general strategies and advice
Explanations of how scoring works
Good examples to follow
Cons:
Focus is on strategy, so the guide lacks practice exercises compared to others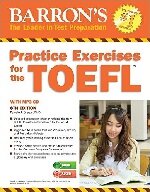 Practice, practice, practice – this is what this Barron's TOEFL book stands for.
Designed for the most thorough of students, this guide and its new MP3 CD-ROM offer together over 1,000 realistic practice exercises and explanations for listening, speaking, structure, reading, and writing. It is suitable for preparation for both the TOEFL iBT and TOEFL ITP (Institutional TOEFL Program).
This test study guide includes one TOEFL iBT practice test and one ITP practice test. Both contain answer evaluations and can be scored. As an added bonus, Barron's equipped this 2015 edition of the book with a new chapter that offers an overview of the most used TOEFL vocabulary words as well as new skill-building practice patterns.
The book also comes with a CD containing additional learning materials. Mainly because of the amount of questions and answers, this is a good tool to supplement and boost your studies.
Pros:
Huge amount of practice material
More than 1000 exercises complete with explanations
Appropriate for both iBT and ITP, with a full-length test for each
Vocabulary section
Strategy and study help
CD with extra resources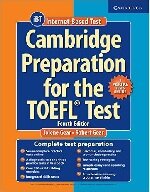 Cambridge University Press is among the leading publishers with a comprehensive TOEFL book on the market. This edition, already published in 2014, contains access to online TOEFL practice tests. Although it has not been updated in some time, this is a classic and well written prep books that is still useful for preparing for today's test.
The package offers a large variety of skill-building exercises and progress checks designed to help improve grammar, vocabulary, pronunciation, and test study skills. Additionally, Cambridge now offers four practice tests that are contained in the book. The book, via an access code, also provides access to online practice tests (including the tests from the book plus an additional set of three practice tests). The online tests closely simulate the TOEFL iBT's actual computerized format that you encounter in a test center and even generate a score, both of which are great tools for test-takers. Cambridge also offers a separate listening program with a set of audio CD-ROMs.
Perhaps some of the book's questions could be somewhat more targeted towards the actual questions encountered on the TOEFL. Nevertheless, since mastering the TOEFL above all else requires a lot practice, this guide is notable for its extensive collection of exercises, practice questions, and – above all – full-length practice tests, which do a good job simulating the actual test's look and feel.
This is an excellent book for those looking for lots of practice and an overall level of difficulty of intermediate to high, which should be suitable for many readers.
Pros:
Full of skill-building exercises, practice materials, and progress checks
Covers all the main areas of the test
Access to online resources
Four full-length practice tests in the book along with another three online
Difficulty level of the full tests is similar to that of the real TOEFL
Material is challenging but doable
Cons:
Some of the questions aren't representative of the real test (although the practice tests are)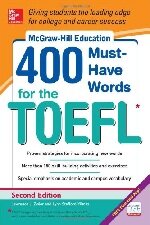 This classic McGraw Hill's study guide still remains one of the best TOEFL books for intermediate-level students looking to build up their vocabulary. Although not a substitute for a full-fledged TOEFL test manual, working with this handy guide will help you familiarize yourself with 400 target words that are particularly common on the TOEFL exam.
The words are organized into eight categories (Nature, Science, Mind and Body, etc.) and various subcategories, which facilitates the learning of new terms and expressions. Each subcategory is organized as its own lesson. Lessons start off with 10 target words, followed by definitions, samples, and TOEFL prep exercises that require readers to correctly apply these target words.
In its current updated 2013 edition, 400 Must-Have Words for the TOEFL even comes with an app featuring flashcard-style vocabulary quizzes.
Simple, yet effective!
Pros:
Excellent source of vocabulary help
Good for intermediate students
Words organized into categories
Well formatted and reader-friendly
New edition comes with an app
Cons:
Focus is entirely on vocabulary, readers in search of more general help will need to supplement with another guide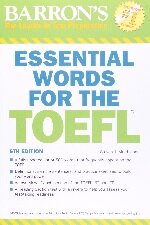 This well-organized Barron's book is another study aid meant to supplement traditional TOEFL books. As such, it contains a list of roughly 500 essential words with definitions for taking the TOEFL.
It also provides an overview of the TOEFL's most important features, offers tips on how to expand one's vocabulary, and gives instructions on how to use dictionaries, thesauruses, and flash cards.
In addition, there are practice tests that give readers a chance to apply their new knowledge and evaluate themselves.
For readers looking for a more general guide to the TOEFL, this may not be enough as it focuses solely on the vocabulary side of the exam. Also, the words may not be difficult enough for the most advanced students.
However, this is still an excellent vocabulary guide which can supplement more detailed books and help students to refine their language and express themselves more coherently. It might even be useful in real life!
Pros:
Contains highly useful vocabulary help
500 essential words and definitions
Some general vocab learning tips
Practice tests to measure progress
Has real-life uses
Cons:
Only focuses on vocab; should be used as a supplement to a more general guide
May not be challenging enough for the highest level student
Other Resources
While the best thing you can do to ensure a good score in the TOEFL is to purchase one of the guides above, there are also plenty of other resources available. Many of these can be accessed easily online, and often cost nothing at all.
Here is a list of some of the best additional resources to help you prepare for the TOEFL.
Magoosh are well known for providing excellent test prep services, and they make no exception when it comes to the TOEFL. Their online library of resources contains flashcards, practice questions, email courses, and vocabulary materials. Best of all – all of these are completely free.
The materials are user-friendly and easy to follow, and presented in a pleasant way. It's rare to find materials that are both highly useful and also free, so take advantage of this!
TED talks and podcasts
Listening can be one of the hardest parts of the TOEFL. Fortunately, there are plenty of things you can do for free that will help improve your listening skills and become more comfortable listening to English speakers.
TED talks are available for free online, and they're short, engaging, and usually fairly clear. What's more, they deal with real-life topics, and feature a range of speakers with different accents and ways of speaking. This means they provide far more realistic examples of spoken English than many textbook exercises.
Podcasts are also useful, and many are targeted at ESL learners, for example Breaking News English which includes recordings of news stories organized by difficulty level.
Articles and Books
As with listening, one of the best ways to practice reading is by simply doing it as much as possible. It's useful to find articles and books in English, and read these to become familiar with the language in its written form.
These can be found all over the internet for no cost at all.
Writing practice can be hard to obtain, but Good Luck TOEFL is a resource dedicated to helping you improve this skill. It contains hundreds of activities to help get better at writing, which are helpfully organized into five categories for your ease.
So, now that you have a list of resources for the TOEFL, the process of preparing and succeeding should be much easier. Remember that everyone has different strengths and weaknesses, so there is no universally perfect study guide, but this list is a great place to find the one that's right for you.
Browse All TOEFL Books        About the TOEFL
Best TOEFL Books
| Rank | Title | Publisher | Year | Pages | Practice Tests | Price |
| --- | --- | --- | --- | --- | --- | --- |
| 1 | Official Guide to the TOEFL Test With CD-ROM | McGraw Hill | 2012 | 653 | 3 | $$ |
| 2 | TOEFL iBT Superpack | Barron's | 2016 | 832 | 7 | $$ |
| 3 | Speaking and Writing Strategies for the TOEFL iBT | Nova Press | 2016 | 394 | 0 | $$ |
| 4 | TOEFL iBT High Score System | CreateSpace | 2012 | 154 | 0 | $ |
| 5 | Practice Exercises for the TOEFL | Barron's | 2015 | 576 | 2 | $$ |
| 6 | Cambridge Preparation for the TOEFL Test | Cambridge | 2014 | 712 | 7 | $$$ |
| 7 | Kaplan TOEFL iBT Premier | Kaplan | 2016 | 416 | 4 | $$ |
| 8 | Cracking the TOEFL iBT | Princeton | 2016 | 560 | 1 | $ |
| 9 | Essential Words for the TOEFL | McGraw Hill | 2014 | 208 | 0 | $ |