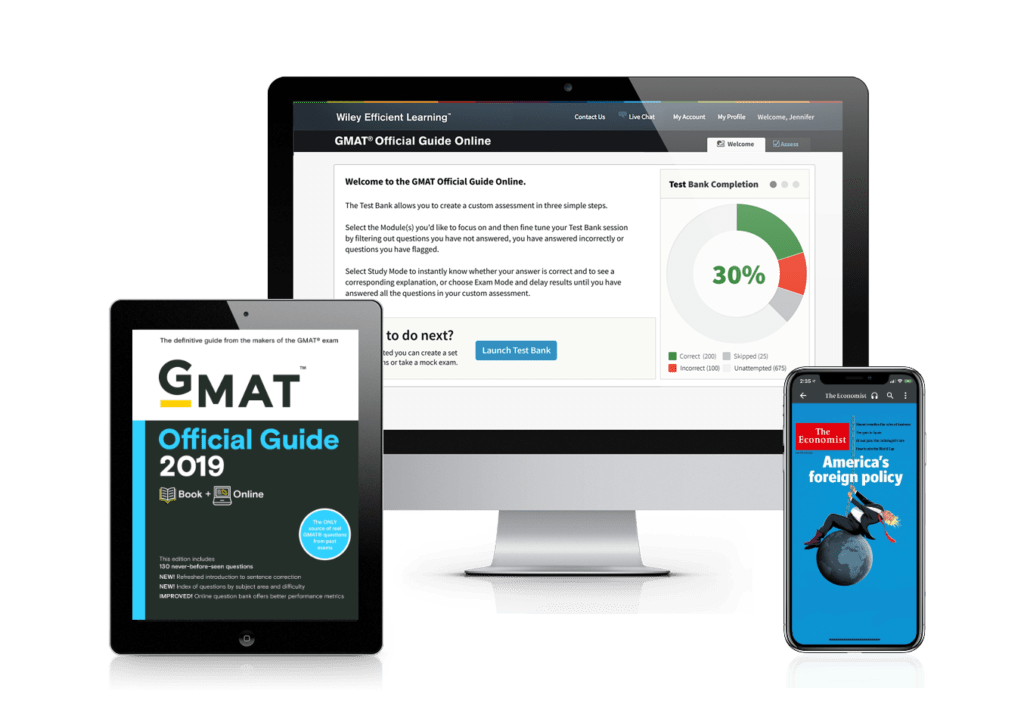 About the Economist GMAT Tutor
Why should you choose the Economist GMAT Tutor to help you prepare for the GMAT? The simple answer is that it's one of the best GMAT prep products on the market. You probably want to know what makes it one of the top choices of prep products among students aiming to get accepted into business school. We will break it down, so that you know exactly why the Economist GMAT Tutor is right for you.
Before the Economist GMAT tutor came about, students were stuck with expensive formal classes or pre-recorded instructional videos to prepare themselves for the GMAT. While these are viable options, they have nothing on the personalized experience, flexibility, and competitive costs that the Economist GMAT has to offer.
Adaptive Learning
Most online courses have a predetermined syllabus, which is basically a fancy way of saying that it's a virtual version of the textbook. Unfortunately, these courses don't have the ability to account for your level of understanding or your personal study needs. The Economist GMAT Tutor totally changes the concept of online learning.
Imagine that you could get your own personalized course that was adapted to target your strengths and your weaknesses, while conveniently helping you work toward your goals. Imagine a course that utilizes advanced technology to adapt in real-time to meet your speed of learning and interest level. This is the Economist GMAT Tutor in a nutshell.
You might start out with the same questions just like other students taking the course, but based upon your answers, the software's diagnostics will determine what questions and content that you will benefit from. There's no point in wasting time on concepts that you already know, and there's also no point in starting on advanced subjects when you're still trying to get a grasp on the basics. The Economist GMAT Tutor will determine what topic you need to work on the most, and it helps you transition to where you need to be quickly and seamlessly.
With the Economist GMAT Tutor, you have the flexibility to learn anytime and anywhere. The best part about it is that there are no formal classes, so you can start the program whenever you are ready and work at your own pace. This program offers many different platforms to access your studies and coursework. So, whether you're at home on your PC or on the go with your phone, the Economist GMAT Tutor makes itself available.
The Economist GMAT Tutor is more than just a tutoring program. Not only do they help you learn the essential information that you need to know, but they also guarantee that you will increase your score by 50 – 70 points. What's more, is that the average student reports a 98-point increase to their final GMAT score. If it sounds too good to be true, check out the rave reviews from real students just like you on sites like GMAT Club, BeatTheGMAT, Google Play, and more.
Busy Schedule?
Most people aspiring for their MBA already have a full plate on their hands. We understand that it can be difficult to dedicate time to additional studies with current obligations to work, school, family and friends. But, with just a 20-minute session a day you can effectively get the full learning experience from The Economist GMAT Tutor. As we referenced earlier, you can also access the Economist GMAT Tutor from your smartphone or PC anywhere at any time.
In addition to being able to study anywhere, you also have the benefit of significantly cutting your overall prep time with the Economist GMAT Tutor. Some MBA applicants spend hundreds of hours poring over self-study books. With the Economist GMAT Tutor, students typically spend anywhere from 80-120 hours, just a fraction of the time! And in today's world, time is money, so it's best to save as much of it as you can.
Features of the Economist GMAT Tutor
The Economist GMAT Tutor offers some amazing features that will help aid you in your studies, including:
Practice Exams – These full-length practice tests are designed to simulate the questions that you will encounter on the real GMAT. The practice tests include 2 sections: a 75-minute verbal section and a 75-minute quant section. Taking these tests over and over again will not only help you improve your score, but it will also help you learn better time management and guessing strategies for when you take the real deal. The Economist GMAT Tutor maintains a vault of over 5,000 questions to provide you with the most up-to-date test preparation. These tests should be taken when you reach half way through completion of the tutoring course, but no later than 14 days before the exam.
One-on-one Tutor Sessions – Live tutoring sessions are most useful when you don't understand a topic. You can connect to an expert tutor through the built-in web interface and ask any questions that you may have. You can also use tutoring sessions for help with strategy, timing, exam debriefs, and AWA essays. All tutoring sessions must be pre-scheduled ahead of time. You can select a date and time that is best for your schedule, but just know that it is best to schedule in advance as tutoring sessions are in high demand.
Essay Markings – The AWA lessons teach you how to structure your essays. After you take this portion of the Economist GMAT Tutoring session, you can then tackle writing an essay of your own. One of the economists accredited tutors will then review and provide feedback on your work.
Ask-A-Tutor Messages – If you need help on a particular question, you can submit a message to one of the Economist GMAT's expert tutors. Within 3-4 business days, you will receive a detailed explanation from a tutor.
Frequently Asked Questions
Are There Higher Level Questions? Can I Skip a Question?
The beauty of the Economist GMAT Tutor is that it was designed by experts to meet all skill levels. It can detect your skill level and adapt its questions to meet your specific needs.
The Economist GMAT Tutor allows you to choose whether you want to cover the Quant or Verbal sections, but the questions are laid out in a certain sequence, so it is recommended that you answer all questions that way the program can better learn what areas you need help in and what areas to focus less on. The program can make this determination very quickly. Once it detects that you have mastered the material, it will move you forward to more advanced questions. Again, this is where the adaptive technology comes in so it can help students reach their full potential.
Will GMAT Tutor Prepare Me for the Analytical Writing Assessment Essays (AWA)?
Of course! The Analytical Writing Assessment Essay is a critical part of the GMAT. This essay measures your analytical and critical thinking skills by posing an argument where you will analyze the reasoning behind the argument and write a critique.
The Economist GMAT Tutor has a comprehensive section that goes over everything you need to know how to structure your essay. Not only will you learn the essentials, but GMAT tutors will personally work with you to help improve your writing skills.
How do I access the 5,000+ Practice Questions?
While it is true that the Economist GMAT Tutor has a vault full of 5,000+ practice test questions, they are not meant to be accessed as a standalone bank of questions. Instead, as you progress through your lessons, you will be asked targeted questions that are relevant to the content that was learned.
Do you Have a Mobile App?
With cutting edge adaptive learning technology, it would only make sense that Economist GMAT Tutor would offer a mobile app. The Economist GMAT' mobile app offers students approximately 100 hours' worth of content, and, of course, let's not forget the 5,000+ practice test questions. The app also uses adaptive technology to see where you are at in your learning journey and adjusts likewise to meet your specific needs.
While the mobile app offers a lot to students, it is designed to be used as a supplement to the full online version. Only the full online version gives you access to take the Computer Adaptive Test (CAT) GMAT practice exams, utilize live tutor sessions and access your personalized student dashboard. The app is compatible on both Android and Apple phones. You can download the app for free either on Google Play or the App Store.
Can special accommodations be made?
When we said that the Economist GMAT Tutor was flexible, we really meant it. The practice tests are designed to be exactly like the real deal for a reason. When you go into the testing center, you should know exactly what to expect.
If you feel that you will be granted a special accommodation on test day due to a medical need or a disability, do not hesitate to reach out to the support team at the Economist GMAT Tutor. Certain special accommodations can be made such as additional testing time or rest breaks. The support team will be happy to help accommodate your special accommodation for the practice test, so that you get the full experience.
How Long Does it Take to Receive Your Graded Essay Back
Once you complete the AWA section, you will be able to write your essay and submit it to the GMAT tutors. Within three to five days, you will receive back your essay with a thorough explanation outlining what your highlights were and what you need to work on.
How Long is the Course?
Because the Economist GMAT Tutor is a self-paced course, it is difficult to say exactly how long the course will take to complete. The length of time varies from person to person. Some people find that they process the information better over an extended period of time. That being said, it is not uncommon for students to extend their study time to a year or longer, but then there are also other students who are able to cover all of the material in just a few weeks' time. The experts at the Economist GMAT strongly recommend that students spend anywhere from 8 – 12 weeks taking the course. The programs available through the Economist GMAT allow access from 3 – 6 months, depending on which program was selected. If you feel you need extra prep time, the programs are extendable for $199 for 3 months at a time.
It's best not to think of the program requiring a certain amount of time. Instead, think about taking the necessary time to fully grasp the information. How much time you use is completely up to you.
Will I Be Able to access the GMAT Official Guide?
For a limited time, the Economist GMAT Tutor will offer students access to the GMAT Official Guide. This guide contains over 900+ practice test questions that you can utilize in addition to the GMAT's practice tests. Instructions on how to access the guide will be emailed to you upon your purchase of an Economist GMAT Tutor course.
Plans and pricing
The Economist GMAT offers three different programs that you can choose from: Complete Prep, Premium Prep, and Ultimate Prep.
Complete Prep
The complete prep features:
Score Guarantee – 50+ point improvement
Full online course access
3 Practice Tests
50 Ask-A-Tutor Questions
1 Live One-On-One Tutoring Session
4 Essay Feedbacks
5,000+ Practice Questions
Digitial Subscription to the Economist Magazine
Mobile Apps
AWA, IR, Quant & Verbal Instruction
The price is currently $799, although it normally retails for $999 for 3 months.
Premium Prep
The premium prep features:
Score Guarantee – 70+ point improvement
Full online course access
5 Practice Tests
100 Ask-A-Tutor Questions
2 Live One-On-One Tutoring Session
4 Essay Feedbacks
5,000+ Practice Questions
Digitial Subscription to the Economist Magazine
Mobile Apps
AWA, IR, Quant & Verbal Instruction
The price is currently $899, although it normally retails for $1,199 for 3 months.
Ultimate Prep
The ultimate prep features:
Score Guarantee – 70+ point improvement
Full online course access
6 Practice Tests
Unlimited Ask-A-Tutor Questions
4 Live One-On-One Tutoring Session
6 Essay Feedbacks
5,000+ Practice Questions
Digitial Subscription to the Economist Magazine
Mobile Apps
AWA, IR, Quant & Verbal Instruction
The price is currently $1,099, although it normally retails for $1,399 for 3 months.
Although it is expensive, the results speak for themselves. If you are still not sure if the Economist GMAT is right for you, the Economist GMAT has a 7-day free trial.
Why get an MBA?
Obtaining your MBA will offer you a wealth of advantages, especially when you receive your degree from a top business school with a good reputation. With an MBA under your belt, not only are you advancing your career path into a managerial position, but you will also have the potential to boost your earning power. According to the Graduate Management Admission Council, the median salary for new MBAs was $100,000 in 2016, which is a great start for any new grad.
As the business marketplace evolves and becomes increasingly complex, employers are searching for job candidates that are equipped with an advanced level of knowledge and job skills. An MBA degree will make you a desirable candidate in today's job market and as a highly valuable individual, you can benefit from greater job security.
An MBA degree will give you a good foundation for developing your business savvy. The courses that you take are designed to help you develop general business knowledge and technical skills that would take someone years to learn from on the job training. If you are interested in starting your own business, an MBA can give you the necessary expertise to launch your own start up and succeed. Research shows that MBAs have a 50% higher success rate than those without the degree.
In addition to the MBA degree, business school gives you the chance to build relationships with important people that may be of an advantage to you later on in your business career. Even after you have graduated, you will have access to your school's alumni network. You can later use this wealth of information for job searches, professional contacts and even mentoring.
What's best about the MBA degree is that there are so many options available, making it easy for you to hone in and find your niche. The direction and nature of your MBA career path will depend upon which concentration and occupation that you are most interested in. Here are some exciting occupations where you can utilize your MBA degree:
Information Systems Manager
Healthcare Administrator
Operations Research Analyst
Business Operations Manager
Management Analyst
Market Research Analyst
Financial Analyst
IT Director
This list just names a few of the career paths you could take. The outlook is high for those with an MBA, and if you are interested in applying to business school, keep reading to find out more.
How do I get an MBA?
In order to obtain your MBA, you must qualify for business school. The requirements may differ slightly depending on the school, but, in general, this means that you must obtain a bachelor's degree from an accredited undergraduate program, as well as pass the Graduate Management Admission Test (GMAT).
The GMAT is no easy feat. Before you take the GMAT, it is recommended that you prepare yourself 3-6 months in advance. Not only do you want to get a passing score on this entrance exam, but you will also need to get an excellent score to stand out from the competition. Set yourself up with the best online GMAT prep on the market with The Economist GMAT Tutor.
About the GMAT
Now that you know all about what the Economist GMAT Tutor can do for you, it's time to find out more about the GMAT.
History of the GMAT
Since its start in 1953, the GMAT has tested students' verbal and quantitative skills. The test has evolved significantly over the years, but still remains an important tool for business schools to measure prospective students both fairly and objectively.
Overview of the GMAT
The Graduate Management Admissions Test (GMAT) is a computer adaptive test (CAT) that is a requirement for the application process to many MBA programs worldwide. It gives business schools admissions an inside look at prospective students' aptitude in areas such as English, mathematics, and analytical writing.
Sections of the GMAT:
AWA Essay – 30 minutes
Integrated Reasoning – 30 minutes
Quantitative Section – 62 minutes, 31 questions
Verbal Section – 65 minutes, 36 questions
Each section is timed so it is important to learn careful time management. Spending too much time on one problem can end up hurting you in the long run. The Economist GMAT Tutor's courses help you learn strategies to do your best on the GMAT.
Scoring
What you score on the GMAT is critical. Your score could make or break whether you get into the business school of your choice. Here is a breakdown of how the GMAT sections are scored:
For the Verbal and Quantitative sections, you will receive a score from 0 – 60. Then the Verbal and Quantitative scores are then combined for a total score of 200 – 800.
For the AWA Analysis Essay, you will receive a score of 0 – 6.
For the Integrated Reasoning section, you will receive a score from 1 – 8.
Altogether, you will receive 5 scores: Verbal, Quantitative, Verbal and Quantitative Combined, AWA Analysis, and Integrated Reasoning.
Analytical Writing Scoring
This is the first section of the exam. It is unique in that it is scored twice – once by a trained expert and another time by an automated essay scoring engine. According to the GMAC, this software "evaluates more than 50 structural and linguistic features, including organization of ideas, syntactic variety and topical analysis."
The two scores are both based on a 0 – 6 scale, then combined. The average of the two scores then becomes the final score. If the two scores side-by-side vary by more than one point, then the essay is given to another expert to review and determine the final score.
What exactly do the numbers of the scale mean to people like you? Well now you can know.
A score of 6 is excellent. The quality of ideas and structure of the argument are excellent. This essay develops the argument thoughtfully and logically. Relevant supporting reasons and examples are effectively employed. The essay demonstrates outstanding command of the language.
A score of five is quite strong. This essay clearly identifies facets of the argument and presents them in a logical way. It develops ideas clearly and transitions between them in a way that makes sense. This essay uses good supporting examples. The English is clear and demonstrates effective control of grammar rules. This essay may have minor flaws.
A score of four is fair. It demonstrates an adequate analysis of the argument and a satisfactory command of the language. This essay identifies key features of the argument. It develops examples but may not always connect ideas well. This essay may have some flaws.
A score of three is flawed but competent. This essay does not develop or express ideas well although some analysis of the argument is present. Sentences may lack variety. Command of the language is not particularly strong. Evidence offered to support the argument is not persuasive.
A score of two is very flawed. An essay that is marked a two demonstrates a serious lack of structure and understanding of the argument. It provides few examples to support the argument and does not show a clear command of the language. It may have numerous problems with sentence structure and grammar.
And last but not least, according to the GMAC, a score of one is "fundamentally deficient." It provides little evidence of the writer's ability to develop a cogent argument. It has major defects in grammar and sentence structure and may be incoherent.
Quantitative Section Overview
After the AWA Essay and the Integrated Reasoning section comes the third section of the exam, the Quantitative Section. Here's what you can expect.
Questions – You can expect to answer 31 questions in 62 minutes. This means you can spend an estimated 2 minutes per question. The questions are multiple choice, with 5 prospective answers to choose from. Once a question is answered you cannot go back and change the answer, so answer carefully.
Adaptivity – Because you are taking a computer-based test, it has the ability to adapt. Based on your answers, the computer then decides what kind of question (harder or easier) it will ask next.
Scoring – This section has a scoring scale of 0-60, bit it is almost unheard of anyone scoring less than 7 or above 51.
Aids – Unfortunately, you are unable to use a calculator on this test, but an erasable note board is provided for you to work out math problems.
Verbal Section Overview
The Verbal section comes after the Quantitative section, making it the fourth and last section on the GMAT. Here's what you can expect.
Questions – You can expect 36 questions 65 minutes, which pans out to just under 2 minutes per question, although some reading comprehension questions will inevitably take a little longer than others.
Adaptivity – Because you are taking a computer-based test, it has the ability to adapt. Based on your answers, the computer then decides what kind of question (harder or easier) it will ask next.
Scoring – This section has a scoring scale of 0-60, bit it is almost unheard of anyone scoring less than 7 or above 51. Although similar to the Quantitative section, you should know that most people's scores are much lower in this section than in the Quantitative section.
Aids – Unfortunately, you are unable to use a dictionary or other aid in this section, but an erasable note board is provided for you to work out math problems.
The verbal section is comprised of three different types of questions: Sentence Correction Questions, Reading Comprehension Questions and Critical Reasoning Questions.
Sentence Correction Questions – You will be asked to choose the grammatically correct sentence out of 5 sentence options.
Reading Comprehension Questions – You will be asked to read a short passage, and then answer various questions about the content and the structure. In this section the computer screen will split into two halves – one half for the passage and the other half for the questions to scan as you go.
Critical Reasoning Questions – You will be asked to read and analyze an argument to come up with a logical solution.
Studying for the GMAT
A study plan will help keep you on track, when you are studying for the GMAT. There are a lot of factors that will determine your study schedule, like working around your job, school, and spending time with your family. But with the right balance, you will be able to dedicate time to study.
Flexibility with the Economist GMAT Tutor allows you to study when you can. Setting aside seven days a week is definitely not necessary, but you should be setting aside time to study at least three to four times during the week. Consistency is the key. Frequent, shorter sessions are proven to help you absorb more information than fewer, overly long study sessions.
Group study sessions can help you benefit from peer support, and it's simply more fun to study in the company of others. Working towards the same goal will help keep you on track, just be sure to apply proper discipline when studying with others. It is easy to get off the subject of studying if you are not careful.
Taking Notes
You can help maximize your learning with the Economist GMAT Tutor by taking notes as you go along. Taking notes on lessons, summaries, questions will help you organize and simplify the information in such a way that is easy to study.
When utilizing the GMAT Tutor course, it is recommended that you take notes in a table format with the following column headings:
Topic (e.g. parallelism)
Stop sign (e.g. list of objects)
The associated rule to employ when you see the stop sign (First, check that the list of objects are all the same part of speech)
Incorrect example
Correct example
Don't write notes in long sentence format. Instead, take bits and pieces and put it together in a brief summary. Boldface type questions signal that the reader should take very careful reading of the material. Review how the passage correlates with the boldface section, but only write down eh key notes.
GMAT Advice
Test Day Tips
While you may have good intentions of getting a last-minute studying bender in the night before the test, we promise it's a not a good idea. Better yet, don't overstain yourself the day before the test. That means you don't want to cram a bunch practice tests in. At this point, you should have a good understanding of the information. It's best to give your brain a bit of a rest before D-day.
There are a few tips that you should know before taking the exam. The first is experimental questions. Experimental questions are "trick" questions that are usually either extremely difficult or rather easy. Roughly a quarter of the test is made up of questions that simply do not count for you or against you, although the GMAC announced that beginning in April 2018 it was going to reduce the number of experimental questions. It is difficult to pinpoint these questions, but they are simply there to test out new material for future tests.
Another tip is to make sure that you are answering all of the questions on the test. If you don't answer all of the questions, your score will be penalized. But don't guess on a bunch of questions just to meet the timer, because if you get several questions wrong in a row, you will be penalized for that too!
The best way to effectively take the test is to develop an efficient pace. Don't go too slowly in the beginning. You definitely have to exhibit effective time management to take the test.
Retaking the GMAT
In an ideal world, everyone who took the GMAT would get a great score on the first try, but that is not the case, unfortunately. Don't feel bad if you need to retake the GMAT, because there are other students who end up retaking it.
The real question is whether you should retake the GMAT or not? The answer is based upon a couple of factors.
Is it possible that you can make a significant improvement the next time?
How much time and effort will be needed to make improvement?
You may be wondering how schools perceive students taking the GMAT several times. Most schools accept the applicants with the highest scores or even take the best scores from an individual section. That said, taking the exam more than once is usually not perceived in a bad light. However, if you take the exam 6 times without improvement, that may be perceived negatively. Taking the exam fewer times with great improvement, sends a strong, positive message to schools that you are serious about it.
When taking the exam, a second time, how much can you realistically expect to raise your score? A lot of it depends on how much effort that you put in working on the areas that you need to work on the most. according to a GMAC report, 31 points net gain is average for the second time test taker. Ten percent of those who retook the test saw their score jump 100 points or higher! The report said that those with the biggest improvements were:
Youngest examinees
Native English Speakers
Those who did not finish the Quant section the first time
Those whose scores were below average the first time
Deciding whether you will retake the exam depends on your motivation levels and the realistic assessment on how much you can improve. Utilizing the Economist GMAT Tutor can help you reach your best possible score on the GMAT.
Applying for Business School
There's a lot of information you need to know about successfully applying for business schools. The application process is a very important part of being admitted into business school.
While your GPA is important, it is not the win all, end all factor that determines whether you will get into business schools. People with average GPA's get into business school all the time. If your GPA is somewhere outside of the 3.0-4.0 range then you should expect to be flagged by an admission's officer. However, if your low GPA was due to an extenuating circumstance such as an illness or notoriously difficult program, it is important to notify the admission's office of that so it can be considered.
On the other end of the spectrum, a 4.0 GPA will not make up for a weak application. Admission's officers want to see strong leadership skills, extracurricular activities, volunteer work, work ethic, and future life goals.
When applying for business school it is important to know that it actually does matter what round you apply in. Not all schools have the same timeline, so it is important to find out that information first. The important thing is that you have the deadlines mapped out for each one, so you don't miss any important deadlines.
Applying in the first round shows that you are serious about attending business school. A first round application also gives you a shot at scholarships that may be available. Business schools tend to accept a larger amount of applicants in the first round, so if you have a lower GMAT score, you may have a better chance.
There's nothing wrong with applying for the second round, but the business schools usually pick from a smaller group of applicants, so you could have a harder time getting accepted. But if you have an excellent GMAT score, then you don't have much to worry about. The third round is very difficult to get accepted, so we recommend that as a last resort.