Are you looking for the best GMAT prep book and materials? Have a look at our experts' hand-picked Top 10 List of the best GMAT books for 2018 and read reviews on why we think these GMAT study guides (some are also available as eBooks for Kindle) are the best. If you need additional support, you can also check out our overview of the best GMAT prep courses. If you've already taken the GMAT, please consider taking our GMAT survey!
A Short Introduction
In a recent survey conducted by the Graduate Management Admissions Council (GMAC), the developers of the Graduate Management Admissions Test (GMAT), 79 % of the 140 companies surveyed expect to hire MBA graduates in 2018, which is up from 68% in 2016. Of those same employers, 58% of them indicate they will increase salaries for these graduates at or above the level of inflation.  As the average salary for new MBA graduates is in the six figures, getting your MBA can be very lucrative! If you are ready to take your business career to the corner office in what is clearly a robust job market, now is the time to pursue your MBA.
As with everything in the business world, the competition for admissions to top MBA programs is fierce. In 2016, over 260,000 people took the GMAT exam, which is used as an indicator for success in business school by over 6100 graduate management programs worldwide.  To stand out from the crowd and ensure you get into the top program of your choice, it is essential to do well on the GMAT.
Of course, if you want to succeed you must prepare in a targeted manner. The GMAT is a 3 ½ hour exam covering four subjects: Analytical Writing, Integrated Reasoning, Quantitative, and Verbal. The GMAT is Computer Adaptive Test (CAT), meaning that the questions adapt based on your answers. If you answer a question correctly, your next question increases in difficulty. If you answer incorrectly, the next question will be easier. This means that scoring for the GMAT isn't as simple as getting a question right or wrong. Tougher questions are weighted more heavily in the final score than easier ones. Also, no two people will take the exact same GMAT test, as the questions given will depend on your own individual performance.
This type of test can be challenging to prepare for, but there are many great GMAT test prep options available to you. If you are the type of learner who needs full support from instructors and the ability to study with other students, then a GMAT prep course is your best option. You can check out our review of the best GMAT prep courses to find the best course for you.
If you prefer a study guide or prep book so you can study at your own pace, a GMAT test prep book is your best option. There are many factors that make a test prep book great, including a well-organized, thorough review of the test subject matter, test-taking tips and strategies, and good practice questions. Since the GMAT is a CAT test, you should also look for a test prep book that offers supplemental online practice tests to help you fully prepare for the experience of taking the GMAT. Here we look at the Best GMAT Prep Books to help you prepare for this rigorous exam.
Our Top 3 GMAT Books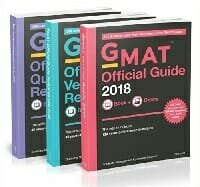 The Official Source
Best Practice Questions
Reasonably Priced
It is always good to go straight to the source! GMAC, the official creators of the GMAT, offers a three-book bundle that is an absolute must for GMAT preparation. Included in the bundle are The Official Guide for GMAT Review 2018, The Official Guide for GMAT Quantitative Review 2018, and The Official Guide for GMAT Verbal Review 2018, giving you over 1400 pages of review materials covering each section of the test.
The importance of these Official Guides is that they are the only source of actual GMAT questions that have been used on retired exams. With over 1500 realistic practice questions, you will get a good sense of not only the content you will be tested on, but the type of questions GMAC develops for the GMAT. We like that they include access to an online customizable question bank, which allows you to review these practice questions in a more realistic testing environment for this computer-based exam.
The Official Guide contains an overview of the GMAT test and a diagnostic review to help you gage your current level of knowledge so you know the content areas you need to focus on to improve your score. In addition, this bundle contains an online component for the Integrated Reasoning Section of the test.  As a bonus, readers also get access to videos featuring tips and commentary by both GMAC experts and test-takers alike.
The included GMAT Quantitative Review is also one of the best GMAT quant books on the market. If you need extra support with this section of the exam, this book is a great resource. Both the Quantitative and Verbal Review books contain their own online question banks and video content with test-taking advice and strategies.
While these books are a little thin on in-depth tips and strategies for taking the GMAT, the realistic practice questions will really help you prepare for the experience of taking this rigorous exam.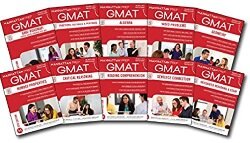 Most Comprehensive Review
The leading non-official resource
Popular and reliable
Precisely reflecting its title, the Manhattan GMAT Complete Strategy Set offers the most comprehensive content review for GMAT preparation. The set includes over 1900 pages in 10 separate books that review individual subjects covered on the exam. All of the content is aligned to the GMAC Official Guide, so you know the subjects being reviewed are actually covered on the exam. The set includes the following GMAT Study Guides: GMAT Roadmap; Number Properties; Fractions, Decimals, and Percents; Algebra; Word Problems; Geometry; Critical Reasoning; Reading Comprehension; Sentence Correction; and Integrated Reasoning and Essays. Having the subjects broken out into smaller books also helps you make the most use out of your precious study time. Bring only the book(s) you are focused on wherever you to go to squeeze studying in at convenient times instead of hauling around a think textbook.
The particularly striking aspect of this set is that each of the books offers easy to understand yet thorough explanations of these complex subjects, and brilliantly lays out strategies and concepts to help you fully understand the material.
As an added bonus, this set comes with access to six full-length, computer-adaptive online practice exams. There are so many benefits to taking this type of simulated exam. It helps you gain important test taking strategies, especially time-management skills. As these are full-length exams, you can get a feel for the pace you will need to keep in the real exam. Also, since Computer Adaptive Tests are different than standard tests, taking this type of simulation better prepares you for the experience of the real test. You won't be surprised by the increasing complexity of questions on test day. You can also see where your weak areas are, allowing you to go back for more review to improve your score. Taking these full-length tests is also a great way to help calm your nerves. Practicing things repeatedly helps us get feel more comfortable and confident. When you walk into your real exam, you know that you have already been successful with the full-length practice test. You have been there, done that so to speak!
In addition to the full-length practice tests, this set includes more than 200 GMAT practice questions. Written by GMAT prep course specialists Manhattan Prep, their reliability and quality is simply unmatched.
The Manhattan Guide set is the ultimate collection of the very best GMAT books – simply a must-have!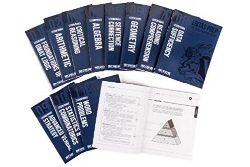 Best Supplemental Online Resources
Designed Specifically for High-Achievers
This set of 12 GMAT review books actually forms the basis of the highly regarded Veritas GMAT Prep Course. If you don't have the time or resources to take the full course, this set allows you to study the course materials on your own and at your own pace. The 12 books that make up the set include: Foundations of GMAT Logic; Arithmetic; Critical Reasoning; Algebra; Sentence Correction; Geometry; Reading Comprehension; Data Sufficiency; Advanced Verbal Strategy; Statistics and Combinatorics; Advanced Word Problems; and Analytical Writing Assessment & Integrated Reasoning.
Because this is part of an integrated course, Veritas does allow you to access a plethora of online resources in their portal that was developed for the full GMAT prep course. This includes access to a question bank that breaks down question difficulty. In a CAT test, it is great to understand what "difficult" and "easy" questions look like. The portal also includes detailed answers with explanations for the 1000 practice questions included in the books. While It is not the best user experience to have these explanations online as opposed to in the books right next to the questions, this does help keep publishing costs minimal and the books more manageable in size. We do see this as a downside to these GMAT prep books though.
If you aren't sure which business school is right for you, they also include information on several leading business schools for you to compare in the portal.
The books are organized well and are clearly written. They offer in-depth coverage of each of the topics. Overall, this set from a trusted industry organization is one of the best packages for preparing you for the GMAT. Given how comprehensive and thorough these books are, the set easily makes it onto our list of the top GMAT prep books for this year.
Other Top GMAT Prep Books
In addition to the Top 3 listed above, we also highly recommend the following GMAT study guides that complement our Top 10 list. If you have specific feedback on these or other titles that are not listed in our overivew, please don't hesitate to get in touch and share your thoughts with us.
Kaplan GMAT Premier 2018 with 6 Practice Tests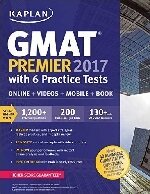 Best if you have little time to study
Excellent supplemental study guide
Industry powerhouse Kaplan delivers a great introduction to the GMAT with their Premier 2017 study guide. This book helps you become familiar with the mechanisms and the structure of the test, provides an overview of basic principles, and offers numerous strategies, tips and techniques for handling different types of problems. This book also provides solid coverage for the Math and Verbal sections of the test and in-depth coverage of Integrated Reasoning.
Of particular note are the bonuses this book offers, which include six full-length practice GMAT tests (five online tests that are computer adaptive, just like the real GMAT, and one hard-copy included in the book), more than 1,200 practice questions/explanations, and an online quiz bank. Kaplan also includes a digital version of the book which can be accessed from your favorite mobile devices, allowing you to study on the go.  You can also study with their included DVD video lessons – aptly titled Fast Fact Videos – that provide even further guidance. These videos present information in short chunks, allowing you to maximize your study time.
Although its coverage may lack the depth exploration of the subjects found in some of the other GMAT study guides, this book provides an excellent foundation for GMAT prep and is one of the most popular GMAT prep books on the market.
The GMAT Roadmap: Expert Advice Through Test Day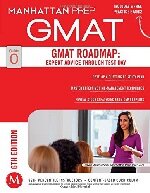 Providing a thorough and welcome introduction to the GMAT, this book – which is part of Manhattan Prep's Strategy Guide series – is one of the top study guides to the world of the GMAT. What is unique about this book is that it offers a comprehensive yet easy-to-follow study plan leading up to your test day.
The GMAT Roadmap offers realistic and insightful advice on topics ranging from time management skills to study tips. It even provides input into the best brain foods for the test!
It is also a great resource for test taking strategies. The book offers specific advice on how to approach each of the different types of questions you will encounter on the GMAT.  You can practice these strategies by taking their six online computer-adaptive practice tests that are included with the book.
For an excellent introduction to the GMAT with advice on how to organize and plan your study, look no further than this book.
The PowerScore GMAT Critical Reasoning Bible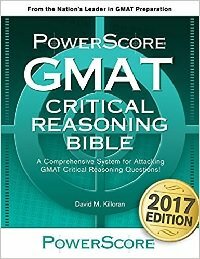 Best Critical Reasoning Study Guide
Possibly the best GMAT critical reasoning book out there, this book from industry leader PowerScore is a well written, thorough study guide for understanding and mastering the questions found in this section of the exam.
It makes sense that this book is written by David Killoran, a successful test prep expert and the author of a set of leading LSAT books, as critical reasoning is an easier version of a skill tested on the LSAT. In keeping with Killoran's accessible style, the explanations in this book are easy to follow and understand. More importantly, the author does a tremendous job in breaking down the different types of critical reasoning questions and offers specific techniques for mastering each type of question.
Although this book could benefit by offering more practice questions, it still does a very thorough job and is a great resource for targeted prep work for the GMAT's critical reasoning and reading comprehension questions.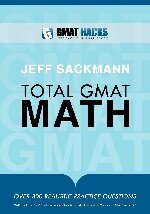 Best GMAT Math Study Guide
The most comprehensive math guide to the GMAT available, Jeff Sackmann's Total GMAT Math offers in-depth coverage of every math problem possible on the GMAT.
Specifically, this GMAT book provides more than 300 practice problems, over 500 non-GMAT style but still useful exercises, as well as a multitude of insightful strategies and tips for solving each type of math question.
Offering clear, concise, and detailed coverage of its material, this guide is not extremely user friendly but it still offers rewards with a deeper math understanding to those willing to invest their efforts in this book.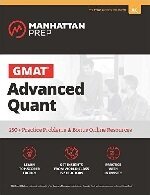 Best GMAT Quantitative Section Study Guide
Looking for an edge on the quantitative portion of the GMAT? Then GMAT Advanced Quant, one of the best GMAT quant books on the market, is for you.
Geared for those already scoring above the 70th percentile on the quantitative section of the GMAT, this book offers strategies and tactics for mastering the more difficult elements of the quantitative section of the test.
The book contains chapters on Problem Solving Principles, Problem Solving Strategies & Tactics, Data Sufficiency Principles, Data Sufficiency Strategy & Tactics, Pattern Questions, Common Terms & Quadratic Templates, Visual Solutions, Hybrid Problems, as well as a final chapter entitled "Workout Sets" which provides 150 GMAT-style questions.
This book offers clear and highly detailed explanations that are easy to read. They also offer additional online resources including an online question bank. If you want to get a top-tier score on the Quant section, this is the best GMAT prep books for you.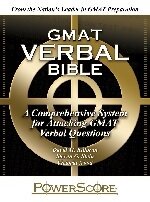 If you need a quick mastery of the test's Verbal section, this book from PowerScore offers exactly what you need to get a top score.
Offering outstanding coverage of Sentence Correction, Critical Reasoning, and Reading Comprehension, this book condenses the strategies and detailed explanations offered in problem-specific books into a more easily digestible 400-page workbook.
While this GMAT prep book could offer more practice questions, it does provide 125 problems and 85 mini-drills, which are great at helping you master strategies to succeed on test day.
This book simply provides a superb condensed mastery of the content found on the Verbal section of the exam.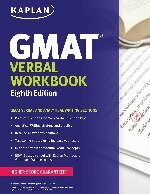 Best Verbal Practice Questions
A good all-in-one guide to the Verbal section of the GMAT, Kaplan Verbal Workbook's latest edition offers solid and straightforward advice on mastering each section of the Verbal component of the GMAT.
In particular, this exam prep book provides a grammar guide, a well-crafted reading comprehension section, and a multitude of practice questions.
While not as good as some of the Critical Reasoning or Sentence Correction dedicated books, Kaplan Verbal Workbook still offers an excellent foundation for the Verbal section of the test and includes realistic practice questions to help you fully prepare for taking this section of the GMAT. For that reason, it still makes our Top 10 List of the best GMAT prep books.
Other Resources
If you are on a tight budget, there are several great free resources available to help you prepare for taking your GMAT without breaking the bank.
No matter what type of test prep you ultimately decide to use, you should first start your studies with the free software offered by GMAC. Their program includes free practice questions with detailed answers and explanations. You can also take two full-length practice tests that use the same CAT technology found on the exam. This is a great way to help you prepare for the experience of taking the exam. Since you will be provided with your results, this is also a great tool to help you determine which sections of the exam you need to focus your study time to help get the score you want. As GMAC develops the GMAT, you can feel confident that that these practice tests are as close as you can get to the real thing. Their free software also includes a study plan to help you organize your study time. You can also get additional questions for a fee.
Khan Academy offers online tutorials for problem solving questions in Math and Data Sufficiency. These lessons are tied to the official GMAC GMAT Review Guide.
In addition to these free resources, industry leaders Kaplan and Manhattan Prep offer free online practice tests. Taking these can help you identify your weak areas to better focus your studies.
If you haven't decided which Business School is right for you, Princeton Review offers profiles of the top MBA programs. GMAC also offers a tool to help you compare Business Schools
We also recommend StudyCrossing. This is a startup platform that aims to connect test-takers and test prep experts. It lets you find GMAT study groups and study partners. You can choose to join an online study group or a meetup group that gets together in your town or city. You can also start your own study group and invite other users or your friends to join.
Find a Test Center
Are you ready to take your GMAT? There is a $250 fee and your scores can be sent to up to five schools. You can choose additional schools for a fee. Your score is valid for five years. You can find a list of test centers in your area here.
GMAT vs GRE
Recent trends are showing that some Admissions Offices are also accepting GRE scores for consideration to MBA programs. As the GMAT and GRE are completely different tests, you should do your research on prospective business schools prior to starting any test prep.
Best GMAT Prep Courses   Browse GMAT Books   GMAT Practice Tests
Best GMAT Prep Book
| Ranking | Publisher | Book Title | Pages | Year | Practice Tests | Price Range |
| --- | --- | --- | --- | --- | --- | --- |
| 1 | GMAC | Official Guide for GMAT Review | 1440 | 2016 | N/A | $ |
| 2 | Manhattan Prep | Complete GMAT Strategy Guide Set | 1496 | 2014 | 6 | $$$ |
| 3 | Veritas Prep | Complete GMAT Course Set | 1062 | 2013 | 1 | $$$ |
| 4 | Kaplan | GMAT Premier | 1188 | 2016 | 6 | $ |
| 5 | Manhattan Prep | GMAT Roadmap | 256 | 2014 | N/A | $ |
| 6 | Powerscore | GMAT Critical Reasoning Bible | 304 | 2015 | N/A | $ |
| 7 | CreateSpace | Total GMAT Math | 432 | 2010 | N/A | $$ |
| 8 | Manhattan Prep | GMAT Advanced Quant | 384 | 2015 | N/A | $ |
| 9 | Powerscore | GMAT Verbal Bible | 462 | 2009 | N/A | $ |
| 10 | Kaplan | GMAT Verbal Workbook | 432 | 2015 | N/A | $ |